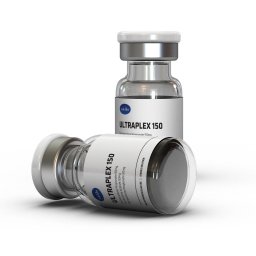 Axiolabs
Ultraplex 150
Pre-Mixed Compound:
- DROSTANOLONE PROPIONATE 50 MG
- TESTOSTERONE PROPIONATE 50 MG
- TRENBOLONE ACETATE 50 MG
Category: Injectable Anabolic Steroid
Package: 10 mL Vial (150 mg/mL)
Brand: Axiolabs
Purpose: Cutting Cycle
Ultraplex 150 Detailed
AXIOLABS ULTRAPLEX 150
Ultraplex 150, a sophisticated blend crafted by Axiolabs, combines Testosterone Propionate, Drostanolone Propionate, and Trenbolone Acetate. This potent injectable steroid offers a unique synergy for enhanced muscle development and conditioning.
DRUG COMPOSITION
Each milliliter of Ultraplex 150 contains:
Testosterone Propionate 50 mg
Drostanolone Propionate 50 mg
Trenbolone Acetate 50 mg
PHARMACEUTICAL FORM
Ultraplex 150 is presented as an oil-based injectable, ensuring optimal absorption and a balanced release of its potent components.
PHARMACEUTICAL GROUP AND ATC CODE
Pharmaceutical Group: Anabolic Steroids
ATC Code: A14A (Testosterone) + A14A A28 (Drostanolone) + A14A A05 (Trenbolone)
PHARMACOLOGICAL PROPERTIES
The combination of Testosterone, Drostanolone, and Trenbolone imparts potent anabolic and androgenic effects. This triad enhances protein synthesis, nitrogen retention, and overall muscle hardness.
PROFILE
Chemical name: -
Chemical formula: -
Percentage of anabolic activity: -
Percentage of androgenic activity: -
Active half life: 2-3 days
Recommended dosage: 500-750 mg/week
Acne: Possible
Bloating (water retention): Moderate
HBR: Moderate
Hepatic toxicity: Moderate
Aromatization: Yes (testosterone component)
THERAPEUTICAL INDICATIONS
Ultraplex 150 is indicated for individuals aiming for accelerated muscle growth, increased strength, and a chiseled physique.
DOSES AND METHOD OF ADMINISTRATION
Dosage: Administer 1 ml (150 mg) every 2-3 days.
Administration: Intramuscular injection is recommended for optimal results.
CYCLE/STACKING
Solo Cycle:
Dosage: Initiate with 150 mg every 2-3 days.
Cycle Length: 8-10 weeks.
Cutting Cycle:
Stack with compounds like Stanoplex and Oxandroplex.
Dosage: Adjust Ultraplex 150 to 200 mg every 2-3 days.
Cycle Length: 8-10 weeks.
Bulking Cycle:
Combine with substances like Testaplex E and Methanoplex.
Dosage: Adjust Ultraplex 150 to 250 mg every 2-3 days.
Cycle Length: 10-12 weeks.
POST CYCLE THERAPY
Commence PCT approximately 2 weeks after the last Ultraplex 150 injection. Utilize medications such as Clomiplex or Tamoxiplex for PCT.
SIDE EFFECTS
Potential side effects may include androgenic effects, cardiovascular strain, and potential suppression of natural testosterone production. Regular monitoring and proper management are crucial.
CONTRAINDICATIONS
Ultraplex 150 is contraindicated in individuals with known hypersensitivity to its components. Conditions such as prostate cancer and breast cancer are contraindications.
OVERDOSE
In case of overdose, seek immediate medical attention.
WARNINGS AND SPECIAL PRECAUTIONS FOR USE:
Regular liver and kidney function tests are recommended. Exercise caution in individuals with cardiovascular conditions.
INTERACTIONS WITH OTHER DRUGS
Ultraplex 150 may interact with anticoagulants, insulin, and corticosteroids. Consult with a healthcare professional to manage potential interactions.
PRESENTATION, PACKAGING
150 mg per mL in 10 mL vials.
STORAGE
Store in a cool, dry place away from direct sunlight. Keep out of reach of children.
DELIVERY TO THE USA
Explore secure and discreet delivery options to the USA. Check with the supplier for specific details.
LEGAL STATUS
Ultraplex 150 is available only with a prescription, and adherence to local regulations regarding purchase and use is essential.
Note: The information provided is for educational purposes only and does not substitute professional medical advice. Consult with a healthcare professional for personalized guidance on the use of Ultraplex 150.
DATE OF LAST TEXT CHECKS
/
NAME AND ADDRESS OF THE MANUFACTURER
Axiolabs
Europe
EXTERNAL LINKS
Please log in to write Ultraplex 150 review.