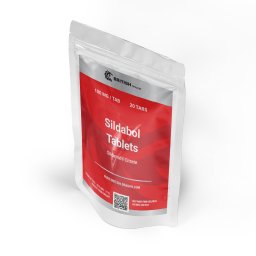 British Dragon
Sildabol Tablets
SILDENAFIL CITRATE 100 MG
Category: PDE5 Inhibitor
Package: 20 pills (100 mg/pill)
Brand: British Dragon
Purpose: Male Sexual Enhancement Pills
Sildabol Tablets Detailed
BRITISH DRAGON SILDABOL
Sildabol Tablets, crafted by British Dragon, is a pharmaceutical formulation containing Sildenafil Citrate as the active ingredient. Each tablet generally provides 100 mg of Sildenafil Citrate. Sildabol is a potent phosphodiesterase type 5 (PDE5) inhibitor used to treat erectile dysfunction.
DRUG COMPOSITION
Each tablet of Sildabol contains 100 mg of Sildenafil Citrate.
PHARMACEUTICAL FORM
Sildabol is formulated as an oral tablet, designed for convenient and discreet administration.
PHARMACEUTICAL GROUP AND ATC CODE
Pharmaceutical group: Drugs for erectile dysfunction; ATC code: G04BE03.
PHARMACOLOGICAL PROPERTIES
Sildabol's pharmacological action involves the inhibition of PDE5, facilitating the dilation of blood vessels in the genital area and enhancing blood flow to the penis, resulting in improved erectile function.
PROFILE
Chemical name: 1-[4-ethoxy-3-(6,7-dihydro-1-methyl-7-oxo-3-propyl-1H-pyrazolo[4,3-d]pyrimidin-5-yl) phenylsulfonyl]-4-methylpiperazine citrate
Chemical formula: C22H30N6O4S
Percentage of anabolic activity: N/A
Percentage of androgenic activity: N/A
Active half life: Approximately 4 hours
Recommended dosage: 50 mg (adjustable)
Acne: No
Bloating (water retention): No
HBR: Low
Hepatic toxicity: No
Aromatization: No
THERAPEUTICAL INDICATIONS
Sildabol is primarily indicated for the treatment of erectile dysfunction in adult men.
DOSES AND METHOD OF ADMINISTRATION
The typical dose of Sildabol is 100 mg, taken orally as needed, approximately 30 minutes to 1 hour before anticipated sexual activity.
CYCLE/STACKING
Solo cycle:
Sildabol is usually administered on an as-needed basis and is not part of a traditional cycling regimen.
Cutting cycle:
Sildabol may be used in conjunction with certain cutting agents to address erectile dysfunction that can arise during a cutting phase.
Bulking cycle:
Sildabol may be utilized during a bulking cycle to counteract the potential side effects of other compounds on sexual function.
POST CYCLE THERAPY
Sildabol is not typically part of post-cycle therapy but can be used as needed to address any residual erectile dysfunction.
SIDE EFFECTS
Common side effects include headache, flushing, dyspepsia, and nasal congestion. Serious side effects are rare.
CONTRAINDICATIONS
Sildabol is contraindicated in individuals with known hypersensitivity to Sildenafil or any other component of the formulation. It should not be used concurrently with nitrate medications.
OVERDOSE
In case of overdose, seek medical attention immediately.
WARNINGS AND SPECIAL PRECAUTIONS FOR USE:
Patients with cardiovascular diseases should exercise caution, and medical advice should be sought before using Sildabol.
INTERACTIONS WITH OTHER DRUGS
Sildabol may interact with medications containing nitrates, alpha-blockers, and certain antifungal drugs. It is crucial to inform healthcare providers of all medications being taken.
PRESENTATION, PACKAGING
100 mg per tablet, 20 tablets in sachet.
STORAGE
Store Sildabol in a cool, dry place, away from direct sunlight.
LEGAL STATUS
Sildabol is a prescription medication and is subject to legal regulations.
DATE OF LAST TEXT CHECKS
/
NAME AND ADDRESS OF THE MANUFACTURER
British Dragon
Europe
EXTERNAL LINKS
Please log in to write Sildabol Tablets review.