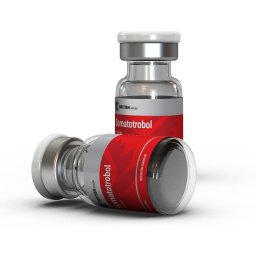 British Dragon
Somatotrobol 100 IUs
SOMATROPIN (R-HGH) 10 IU
Category: Growth Hormone Analog
Package: 1 kit [10 Vials] (10 IU/vial)
Brand: British Dragon
Purpose: Weight Loss / Cutting Cycle
You will get 1 of "Bacteriostatic Water" for FREE

Buy 2 and get 2 of 'Bacteriostatic Water' for FREE
Somatotrobol 100 IUs Detailed
BRITISH DRAGON SOMATOTROBOL 10 IU
Somatotrobol 10, manufactured by British Dragon, is a synthetic human growth hormone (HGH) containing somatropin as the active substance. Each vial typically contains 10 International Units (IU) of recombinant human growth hormone.
DRUG COMPOSITION
Each vial of Somatotrobol 10 contains 10 IU of somatropin, a synthetic form of human growth hormone.
PHARMACEUTICAL FORM
Somatotrobol 10 is presented as a lyophilized powder for reconstitution. It is intended for subcutaneous injection after reconstitution.
PHARMACEUTICAL GROUP AND ATC CODE
Pharmaceutical group: Human growth hormone; ATC code: H01AC01.
PHARMACOLOGICAL PROPERTIES
Somatotrobol 10 exerts its effects by stimulating growth, cell reproduction, and regeneration. It primarily acts on the growth plates in bones and the liver, promoting linear growth.
PROFILE
Chemical name: Recombinant Human Growth Hormone
Chemical formula: C990H1529N263O299S7
Percentage of anabolic activity: Variable
Percentage of androgenic activity: Negligible
Active half life: Approximately 2 to 3 hours
Recommended dosage: 4-10 iu/day
Acne: Rare
Bloating (water retention): Possible
HBR: None
Hepatic toxicity: None reported
Aromatization: None
THERAPEUTICAL INDICATIONS
Somatotrobol 10 is indicated for the treatment of growth failure in children and adults with growth hormone deficiency.
DOSES AND METHOD OF ADMINISTRATION
The dosage and administration of Somatotrobol 10 depend on the individual's condition and response to treatment. Generally, it is administered subcutaneously. Consultation with a healthcare professional is crucial for proper dosing.
CYCLE/STACKING
Solo cycle:
Somatotrobol 10 is often used as a standalone therapy for growth hormone deficiency. The dosage is adjusted based on the individual's needs.
Cutting cycle:
During a cutting cycle, Somatotrobol 10 may be stacked with compounds that support fat loss and lean muscle retention.
Bulking cycle:
In a bulking cycle, Somatotrobol 10 can be combined with anabolic agents to enhance muscle growth.
POST CYCLE THERAPY
Somatotrobol 10 does not typically require post-cycle therapy, as it is used for therapeutic rather than performance-enhancing purposes.
SIDE EFFECTS
Common side effects may include injection site reactions, joint pain, and fluid retention. Serious side effects are rare but may include intracranial hypertension.
CONTRAINDICATIONS
Somatotrobol 10 is contraindicated in patients with active malignancy, diabetic retinopathy, and those with hypersensitivity to somatropin.
OVERDOSE
In case of overdose, seek medical attention immediately.
WARNINGS AND SPECIAL PRECAUTIONS FOR USE:
Special caution is advised in patients with a history of cancer, diabetes, or intracranial lesions. Regular monitoring is essential.
INTERACTIONS WITH OTHER DRUGS
Somatotrobol 10 may interact with glucocorticoids, thyroid hormones, and insulin. Adjustments in dosage may be necessary.
PRESENTATION, PACKAGING
1 kit with 10 vials, each vial has 10 IUs.
STORAGE
Store Somatotrobol 10 in a refrigerator at 2-8°C. Do not freeze.
LEGAL STATUS
Somatotrobol 10 is a prescription medication, subject to legal regulations.
DATE OF LAST TEXT CHECKS
/
NAME AND ADDRESS OF THE MANUFACTURER
British Dragon
Europe
EXTERNAL LINKS
Please log in to write Somatotrobol 100 IUs review.