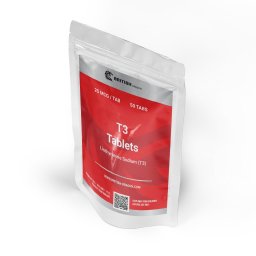 British Dragon
T3 Tablets
LIOTHYRONINE SODIUM 25 MCG
Category: Thyroid Hormone
Package: 50 pills (25 mcg/pill)
Brand: British Dragon
Purpose: Weight Loss
T3 Tablets Detailed
BRITISH DRAGON T3
T3 Tablets by British Dragon is an oral medication containing Liothyronine Sodium as the active substance. Each tablet generally provides 25 mcg of Liothyronine Sodium. Liothyronine is a synthetic form of the thyroid hormone triiodothyronine (T3).
DRUG COMPOSITION
Each tablet of T3 contains 25 mcg of Liothyronine Sodium.
PHARMACEUTICAL FORM
T3 is formulated in tablet form, allowing for convenient oral administration.
PHARMACEUTICAL GROUP AND ATC CODE
Pharmaceutical group: Thyroid therapy; ATC code: H03AA02.
PHARMACOLOGICAL PROPERTIES
Liothyronine Sodium is a synthetic thyroid hormone that mimics the action of the endogenous thyroid hormone T3. It plays a crucial role in regulating metabolism and energy production.
PROFILE
Chemical name: (2S)-2-amino-3-[4-(4-hydroxy-3-iodophenoxy)-3,5-diiodophenyl]propanoic acid
Chemical formula: C15H12I3NO4
Percentage of anabolic activity: Not a steroid
Percentage of androgenic activity: Not a steroid
Active half life: 1 day
Recommended dosage: 25-75 mcg/day
Acne: no
Bloating (water retention): no
HBR: yes
Hepatic toxicity: no
Aromatization: no
THERAPEUTICAL INDICATIONS
T3 is primarily prescribed for the treatment of hypothyroidism (underactive thyroid) to supplement the deficient thyroid hormone levels.
DOSES AND METHOD OF ADMINISTRATION
Dosage and administration should be determined by a healthcare professional based on individual needs. T3 is typically taken orally, and the dosage may vary depending on the severity of hypothyroidism.
CYCLE/STACKING
Solo cycle:
T3 is often used alone for the treatment of hypothyroidism. The dosage is adjusted to achieve optimal thyroid function.
Cutting cycle:
T3 is sometimes utilized in cutting cycles by bodybuilders to enhance fat loss. It may be stacked with compounds like Clenbuterol for synergistic effects.
Bulking cycle:
T3 is not a common component of bulking cycles, as its primary function is related to metabolic regulation rather than muscle growth.
POST CYCLE THERAPY
Post cycle therapy is not applicable for T3, as it is not typically used in the context of anabolic steroid cycles.
SIDE EFFECTS
Potential side effects may include increased heart rate, anxiety, insomnia, and muscle cramps. These effects are often dose-dependent.
CONTRAINDICATIONS
T3 is contraindicated in individuals with hypersensitivity to the drug and those with certain cardiovascular conditions. It should be used cautiously in patients with hyperthyroidism.
OVERDOSE
Overdose symptoms may include hyperthyroidism, leading to palpitations, sweating, and weight loss. Seek medical attention if suspected.
WARNINGS AND SPECIAL PRECAUTIONS FOR USE:
Caution is advised in individuals with cardiovascular issues. Regular monitoring of thyroid function is essential during treatment.
INTERACTIONS WITH OTHER DRUGS
T3 may interact with certain medications, including anticoagulants, diabetes medications, and certain antidepressants. Inform healthcare providers of all medications being taken.
PRESENTATION, PACKAGING
25 mcg per tablet, 50 tablets in sachet.
STORAGE
Store T3 in a cool, dry place, protected from light.
LEGAL STATUS
T3 is a prescription medication and is subject to legal regulations.
DATE OF LAST TEXT CHECKS
/
NAME AND ADDRESS OF THE MANUFACTURER
British Dragon
Europe
EXTERNAL LINKS
Please log in to write T3 Tablets review.