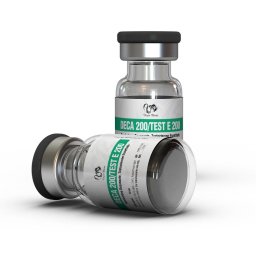 Dragon Pharma
Deca 200/Test E 200
Pre-Mixed Compound:
- NANDROLONE DECANOATE 200 MG
- TESTOSTERONE ENANTHATE 200 MG
Category: Androgen; Anabolic Steroid; Progestogen; Androgen Ester
Package: 10 mL Vial (400 mg/mL)
Brand: Dragon Pharma, Europe
Purpose: Bulking Cycle
Deca 200/Test E 200 Detailed
DRAGON PHARMA DECA 200/TEST E 200
Deca 200/Test E 200 is a combined product that includes two potent anabolic steroids, Deca Durabolin (Nandrolone Decanoate) and Testosterone Enanthate. This combination aims to provide a synergistic effect for muscle growth and overall performance enhancement.
DRUG COMPOSITION
Deca 200/Test E 200 contains Nandrolone Decanoate (200 mg) and Testosterone Enanthate (200 mg) as its active ingredients.
PHARMACEUTICAL FORM
This product is formulated as an injectable solution, ensuring a controlled release of both Nandrolone Decanoate and Testosterone Enanthate upon intramuscular administration.
PHARMACEUTICAL GROUP AND ATC CODE
Pharmaceutical group: Androgens and anabolic steroids; ATC code: Not assigned.
PHARMACOLOGICAL PROPERTIES
The combination of Nandrolone Decanoate and Testosterone Enanthate provides strong anabolic and androgenic effects, promoting protein synthesis, nitrogen retention, and overall muscle growth.
PROFILE
Chemical name: Nandrolone Decanoate, Testosterone Enanthate
Chemical formula: C28H44O3, C26H40O3
Percentage of anabolic activity: 125.00%
Percentage of androgenic activity: 100.00%
Active half life: Approximately 6-15 days (Decanoate), Approximately 4-5 days (Enanthate)
Recommended dosage: 400-600 mg/week
Acne: Possible
Bloating (water retention): Possible
HBR: Low
Hepatic toxicity: Low
Aromatization: High (for Testosterone component)
THERAPEUTICAL INDICATIONS
Deca 200/Test E 200 is not approved for medical use. It is commonly employed by athletes and bodybuilders to enhance muscle mass, strength, and athletic performance.
DOSES AND METHOD OF ADMINISTRATION
Dosages and administration frequency may vary based on individual goals and experience. Typically, it is administered via intramuscular injection.
CYCLE/STACKING
A common cycle with Deca 200/Test E 200 may last 10-12 weeks, with dosages adjusted according to individual tolerance and desired outcomes. Other ancillary drugs may be included.
POST CYCLE THERAPY
Post cycle therapy (PCT) is recommended to restore natural testosterone production. This may involve the use of selective estrogen receptor modulators (SERMs) and other PCT compounds.
SIDE EFFECTS
Potential side effects include estrogenic effects like water retention and gynecomastia, and androgenic effects such as acne and hair loss. Cardiovascular and hepatic issues may also be a concern.
CONTRAINDICATIONS
Deca 200/Test E 200 is contraindicated in individuals with a known hypersensitivity to the drug and those with pre-existing medical conditions, especially cardiovascular issues and prostate cancer.
OVERDOSE
Overdose information is limited, but exceeding recommended doses can increase the risk of adverse reactions associated with both Nandrolone Decanoate and Testosterone Enanthate.
WARNINGS AND SPECIAL PRECAUTIONS FOR USE:
Users should be aware of potential side effects and regularly monitor their health. Prolonged use may lead to serious health consequences.
INTERACTIONS WITH OTHER DRUGS
Interactions with other drugs may occur, especially those affecting liver function or cardiovascular health. Users should inform healthcare providers of all substances taken concurrently.
PRESENTATION, PACKAGING
10 mL vial.
STORAGE
Deca 200/Test E 200 should be stored according to the manufacturer's instructions, typically in a cool and dry place away from direct sunlight.
DELIVERY TO THE USA
Deca 200/Test E 200 is available for secure and discreet delivery to the USA through authorized supplier - Steroid.biz.
LEGAL STATUS
The legal status of Deca 200/Test E 200 varies by country, but it is generally considered a controlled substance due to its potential for abuse.
DATE OF LAST TEXT CHECKS
/
NAME AND ADDRESS OF THE MANUFACTURER
Dragon Pharma
Europe
EXTERNAL LINKS
Please log in to write Deca 200/Test E 200 review.