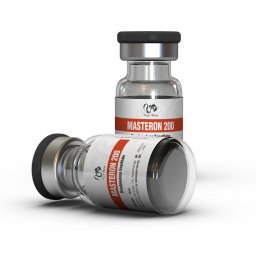 Dragon Pharma
Masteron 200
DROSTANOLONE ENANTHATE 200 MG
Category: Androgen; Anabolic Steroid; Androgen Ester
Package: 10 mL Vial (200 mg/mL)
Brand: Dragon Pharma, Europe
Purpose: Cutting / Fat Loss Cycle
Masteron 200 Detailed
DRAGON PHARMA MASTERON 200
Masteron 200 is an injectable anabolic steroid characterized by its active ingredient, drostanolone enanthate. It belongs to the family of androgens and is renowned for its potent effects on muscle definition and hardness.
DRUG COMPOSITION
Each milliliter of Masteron 200 contains 200 mg of drostanolone enanthate, a modified form of dihydrotestosterone (DHT).
PHARMACEUTICAL FORM
Masteron 200 is formulated as an injectable solution designed for intramuscular administration.
PHARMACEUTICAL GROUP AND ATC CODE
Pharmaceutical group: Androgens; ATC code: A14A B06.
PHARMACOLOGICAL PROPERTIES
Drostanolone enanthate, a long-acting ester of drostanolone, exhibits strong androgenic and moderate anabolic properties. It contributes to a lean and defined physique, making it popular in cutting cycles.
PROFILE
Chemical name: 2alpha-methyl-androstan-3-one-17beta-ol
Chemical formula: C27H44O3
Percentage of anabolic activity: 62.00%
Percentage of androgenic activity: 25.00%
Active half life: 8-10 days
Recommended dosage: 400-600 mg per week
Acne: Possible
Bloating (water retention): No
HBR: Low
Hepatic toxicity: Low
Aromatization: No
THERAPEUTICAL INDICATIONS
While not approved for medical use, Masteron 200 is valued in bodybuilding for its ability to enhance muscle hardness and definition.
DOSES AND METHOD OF ADMINISTRATION
Typical dosages range from 400 to 600 mg per week, administered through intramuscular injections. Injection frequency may vary based on individual goals and tolerance.
CYCLE/STACKING
Masteron 200 is often incorporated into cutting cycles to complement other compounds such as testosterone and trenbolone. Stacking strategies should align with individual goals and experience.
POST CYCLE THERAPY
PCT is advisable after a Masteron 200 cycle to restore natural testosterone production. An example PCT might include selective estrogen receptor modulators (SERMs) like tamoxifen or clomiphene.
SIDE EFFECTS
Possible side effects include androgenic effects such as acne, increased facial hair growth, and aggression. Cardiovascular issues and potential suppression of natural testosterone production are also concerns.
CONTRAINDICATIONS
Contraindications include individuals with hypersensitivity to drostanolone enanthate, a history of cardiovascular issues, and prostate cancer.
OVERDOSE
Excessive doses may lead to virilization in females and exacerbation of androgenic side effects in males.
WARNINGS AND SPECIAL PRECAUTIONS FOR USE:
Masteron 200 should be used with caution in individuals with pre-existing medical conditions. Regular monitoring and adjustments to the dosage may be necessary.
INTERACTIONS WITH OTHER DRUGS
Interactions may occur with medications affecting liver function and cardiovascular health. Consultation with a healthcare professional is recommended.
PRESENTATION, PACKAGING
10 mL vial.
STORAGE
Store Masteron 200 as directed by the manufacturer, typically in a cool, dark place, and out of reach of children.
DELIVERY TO THE USA
Masteron 200 is available for secure and discreet delivery to the USA through authorized supplier - Steroid.biz.
LEGAL STATUS
The legal status of Masteron 200 may vary by jurisdiction. It is crucial to comply with local regulations regarding the use of anabolic steroids.
DATE OF LAST TEXT CHECKS
/
NAME AND ADDRESS OF THE MANUFACTURER
Dragon Pharma
Europe
EXTERNAL LINKS
Please log in to write Masteron 200 review.