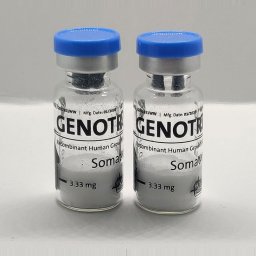 Genetic Pharmaceuticals
Genotrop 100 IUs
SOMATROPIN (R-HGH) 10 IU
Category: Growth Hormone Analog
Package: 1 kit [10 Vials] (10 IU/vial)
Brand: Genetic Pharmaceuticals
Purpose: Weight Loss / Cutting Cycle
Genotrop 100 IUs Detailed
GENETIC PHARMACEUTICALS GENOTROP 10 IU
Genotrop 10 IU, manufactured by Genetic Pharmaceuticals, is a synthetic human growth hormone containing Somatropin. It is formulated as a powder for reconstitution and is supplied in kits containing 10 vials.
DRUG COMPOSITION
Each vial of Genotrop 10 IU comprises 10 International Units (IUs) of the active substance Somatropin.
PHARMACEUTICAL FORM
Genotrop 10 IU is presented in powder form, designed for reconstitution with a suitable diluent before administration.
PHARMACEUTICAL GROUP AND ATC CODE
Belonging to the group of anterior pituitary lobe hormones, Genotrop falls under the Anatomical Therapeutic Chemical (ATC) classification code H01AC01.
PHARMACOLOGICAL PROPERTIES
As a synthetic form of human growth hormone, Somatropin in Genotrop 10 IU stimulates growth, cell reproduction, and regeneration. It is crucial in bodybuilding for promoting muscle growth and recovery.
PROFILE
Chemical name: Recombinant Human Growth Hormone
Chemical formula: C990H1529N263O299S7
Percentage of anabolic activity: Variable
Percentage of androgenic activity: Negligible
Active half life: Approximately 2 to 3 hours
Recommended dosage: 4-10 iu/day
Acne: Rare
Bloating (water retention): Possible
HBR: None
Hepatic toxicity: None reported
Aromatization: None
THERAPEUTICAL INDICATIONS
Genotrop 10 IU is therapeutically indicated for growth disorders. In bodybuilding, it is employed to enhance muscle growth, improve metabolism, and accelerate recovery.
DOSES AND METHOD OF ADMINISTRATION
For bodybuilding purposes, a common starting dose is 2-4 IUs per day. More experienced users may opt for higher doses, ranging from 4 to 8 IUs daily. Administered through subcutaneous injection, it is often taken in the morning for optimal results.
CYCLE/STACKING
Solo Cycle:
Commence with 4 IUs per day for 3-6 months to observe muscle growth and overall body composition changes.
Cutting Cycle:
Combine Genotrop with fat-burning agents for enhanced results. Example: 4 IUs per day with Clenbuterol for 12 weeks.
Bulking Cycle:
POST CYCLE THERAPY
While not a traditional PCT drug, some users continue with a low dose of Genotrop post-cycle to maintain gains. Example: 2 IUs per day for 4-6 weeks.
SIDE EFFECTS
Potential side effects may include joint pain, edema, and carpal tunnel syndrome. These effects are generally dose-dependent.
CONTRAINDICATIONS
Individuals with active malignancy or with a known hypersensitivity to Somatropin should avoid Genotrop use.
OVERDOSE
In case of overdose symptoms, medical attention is essential.
WARNINGS AND SPECIAL PRECAUTIONS FOR USE:
Caution is advised in patients with pre-existing conditions such as diabetes or a history of cancer.
INTERACTIONS WITH OTHER DRUGS
Exercise caution when combining Genotrop with insulin or other growth-promoting substances.
PRESENTATION, PACKAGING
1 kit with 10 vials, each vial has 10 IUs.
STORAGE
Store Genotrop 10 IU in a cool, dry place, away from direct sunlight. Reconstituted solutions should be refrigerated.
DELIVERY TO THE USA
Our delivery services ensure secure and timely delivery of Genotrop 10 IU to customers in the USA.
LEGAL STATUS
Check the legal status of Genotrop in your region before purchase and use.
DATE OF LAST TEXT CHECKS
/
NAME AND ADDRESS OF THE MANUFACTURER
Genetic Pharmaceuticals
India
EXTERNAL LINKS
Please log in to write Genotrop 100 IUs review.