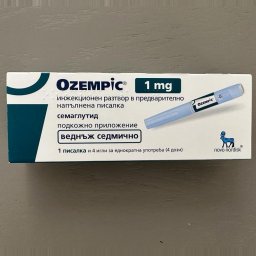 Peptides
Ozempic 1 mg
SEMAGLUTIDE 1 MG - 4 DOSES
Category: Antidiabetic
Package: 1 Pre-Filled Pen (1 mg - 4 doses)
Brand: Novo Nordisk
Purpose: N/A
Ozempic 1 mg Detailed
NOVO NORDISK OZEMPIC
Ozempic, a revolutionary medication by Novo Nordisk, is a pre-filled pen delivering a potent dose of Semaglutide 1 mg. This injectable powerhouse is designed to assist individuals with type 2 diabetes in achieving better glycemic control and improving overall metabolic health.
DRUG COMPOSITION
The active substance in Ozempic is Semaglutide at a concentration of 1 mg per pen, carefully formulated to provide a powerful yet controlled therapeutic effect.
PHARMACEUTICAL FORM
Ozempic is presented in a user-friendly pre-filled pen, ensuring accurate dosing and ease of administration for individuals managing type 2 diabetes.
PHARMACEUTICAL GROUP AND ATC CODE
Ozempic falls under the category of antidiabetic medications and is classified under the Anatomical Therapeutic Chemical (ATC) code, though specific coding may vary.
PHARMACOLOGICAL PROPERTIES
As a glucagon-like peptide-1 receptor agonist, Ozempic enhances insulin secretion, inhibits glucagon release, delays gastric emptying, and promotes a sense of fullness. These actions collectively contribute to improved blood sugar control and weight management.
PROFILE
Chemical name: Semaglutide
Chemical formula: C187H291N45O59
Percentage of anabolic activity: Not applicable (not an anabolic steroid)
Percentage of androgenic activity: Not applicable
Active half life: Approximately 1 week
Recommended dosage: Varies, typically once weekly
Acne: Not a known side effect
Bloating (water retention): Not a known side effect
HBR: Not applicable
Hepatic toxicity: Not a known side effect
Aromatization: Not applicable
THERAPEUTICAL INDICATIONS
Ozempic is indicated for the management of type 2 diabetes mellitus in adults, providing an effective adjunct to diet and exercise for glycemic control.
DOSES AND METHOD OF ADMINISTRATION
Standard Dosage: 0.25 mg to 1 mg once weekly
Administration: Subcutaneous injection using the pre-filled pen
Frequency: Weekly
CYCLE/STACKING
Solo Cycle:
Dosage: Start with 0.25 mg once weekly, titrate to 1 mg based on individual response
Cycle Length: Continuous
Cutting Cycle:
Stack: Ozempic with Metformin
Dosages: Ozempic (0.25 mg to 1 mg once weekly), Metformin (dosage as prescribed)
Cycle Length: Continuous
Bulking Cycle:
Stack: Ozempic with Insulin
Dosages: Ozempic (0.25 mg to 1 mg once weekly), Insulin (dosage as prescribed)
Cycle Length: Continuous
POST CYCLE THERAPY
Ozempic does not require a specific PCT as it is a chronic medication for managing type 2 diabetes. Continuation of the prescribed antidiabetic regimen is advised.
SIDE EFFECTS
Common side effects may include gastrointestinal symptoms (nausea, vomiting, diarrhea), injection site reactions, and hypoglycemia, particularly when used in combination with insulin or sulfonylureas.
CONTRAINDICATIONS
Ozempic is contraindicated in individuals with a history of hypersensitivity to Semaglutide, personal or family history of medullary thyroid carcinoma (MTC), and multiple endocrine neoplasia syndrome type 2 (MEN 2).
OVERDOSE
Excessive doses may increase the risk of hypoglycemia. Dosage adjustment should be done under the guidance of a healthcare professional.
WARNINGS AND SPECIAL PRECAUTIONS FOR USE:
Caution is advised in patients with a history of pancreatitis, renal impairment, and in elderly patients. Regular monitoring of renal function and thyroid health is recommended.
INTERACTIONS WITH OTHER DRUGS
Ozempic may interact with certain oral medications. Consultation with a healthcare professional is recommended before combining medications.
PRESENTATION, PACKAGING
1 mg per 1 pre-filled pen.
STORAGE
Store Ozempic pens according to the manufacturer's instructions, typically in a cool and dry place.
DELIVERY TO THE USA
Steroid.biz ensures secure and discreet delivery of Ozempic to the USA, facilitating timely access to this critical antidiabetic medication.
LEGAL STATUS
Ozempic is a prescription medication approved for use in managing type 2 diabetes mellitus. It should be used under the guidance of a qualified healthcare professional.
DATE OF LAST TEXT CHECKS
/
NAME AND ADDRESS OF THE MANUFACTURER
Novo Nordisk
Europe
EXTERNAL LINKS
Please log in to write Ozempic 1 mg review.