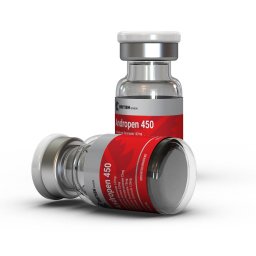 British Dragon
Andropen 450
Pre-Mixed Compound:
- TESTOSTERONE ACETATE 32 MG
- TESTOSTERONE PROPIONATE 73 MG
- TESTOSTERONE PHENYLPROPIONATE 73 MG
- TESTOSTERONE CYPIONATE 125 MG
- TESTOSTERONE DECANOATE
Category: Injectable Anabolic Androgenic Steroid
Package: 10 mL Vial (450 mg/mL)
Brand: British Dragon
Purpose: Mass, Bulking, Strength Cycle
Andropen 450 Detailed
BRITISH DRAGON ANDROPEN 450
Andropen 450, manufactured by British Dragon, is a multi-testosterone blend designed to provide an extended release of testosterone. It combines five different testosterone esters: Testosterone Acetate, Testosterone Propionate, Testosterone Phenylpropionate, Testosterone Cypionate, and Testosterone Decanoate.
DRUG COMPOSITION
Each milliliter of Andropen 450 contains the following testosterone esters:
Testosterone Acetate: 32 mg
Testosterone Propionate: 73 mg
Testosterone Phenylpropionate: 73 mg
Testosterone Cypionate: 125 mg
Testosterone Decanoate: 147 mg
PHARMACEUTICAL FORM
Andropen 450 is formulated as an injectable solution.
PHARMACEUTICAL GROUP AND ATC CODE
Pharmaceutical group: Androgens. ATC code: G03BA03.
PHARMACOLOGICAL PROPERTIES
Andropen 450 provides a sustained release of testosterone due to the combination of short and long-acting esters. Testosterone is the primary male sex hormone responsible for the development of male reproductive tissues and the maintenance of male secondary sexual characteristics.
PROFILE
Chemical name: Testosterone Acetate, Testosterone Propionate, Testosterone Phenylpropionate, Testosterone Cypionate, Testosterone Decanoate
Chemical formula: C21H30O3 (Acetate), C22H32O3 (Propionate), C28H36O3 (Phenylpropionate), C27H40O3 (Cypionate), C29H46O3 (Decanoate)
Percentage of anabolic activity: 100.00%
Percentage of androgenic activity: 100.00%
Active half life: Varies (Acetate: 1 day, Propionate: 1.5 days, Phenylpropionate: 4.5 days, Cypionate: 8 days, Decanoate: 15 days)
Recommended dosage: 500-1000 mg per week
Acne: Possible
Bloating (water retention): Possible
HBR: Low
Hepatic toxicity: Low
Aromatization: High (due to testosterone)
THERAPEUTICAL INDICATIONS
Andropen 450 is indicated for testosterone replacement therapy in conditions associated with testosterone deficiency.
DOSES AND METHOD OF ADMINISTRATION
The dosage and administration of Andropen 450 depend on the individual's condition and response to treatment. It is administered through intramuscular injection.
CYCLE/STACKING
Solo cycle:
A solo Andropen 450 cycle may involve a weekly dose, with adjustments based on individual response.
Cutting cycle:
In a cutting cycle, Andropen 450 may be stacked with compounds promoting fat loss and lean muscle retention, like Mastabol 200 or Primobol.
Bulking cycle:
For a bulking cycle, Andropen 450 can be combined with other anabolic agents to enhance muscle growth.
POST CYCLE THERAPY
Post Cycle Therapy (PCT) may involve the use of SERMs (Selective Estrogen Receptor Modulators) to restore natural testosterone production after the Andropen 450 cycle.
SIDE EFFECTS
Common side effects may include acne, fluid retention, and increased blood pressure. Other androgenic and estrogenic side effects are possible.
CONTRAINDICATIONS
Andropen 450 is contraindicated in individuals with prostate or breast cancer and those with hypersensitivity to testosterone or any component of the formulation.
OVERDOSE
In case of overdose, seek medical attention immediately.
WARNINGS AND SPECIAL PRECAUTIONS FOR USE:
Andropen 450 should be used with caution in individuals with a history of cardiovascular disease, hepatic or renal impairment, and in elderly patients.
INTERACTIONS WITH OTHER DRUGS
Andropen 450 may interact with anticoagulants, insulin, and corticosteroids. Adjustments in dosage may be necessary.
PRESENTATION, PACKAGING
450 mg per 1 mL in 10 mL vials.
STORAGE
Store Andropen 450 in a cool and dark place. Protect from direct sunlight.
LEGAL STATUS
Andropen 450 is a prescription medication, subject to legal regulations.
DATE OF LAST TEXT CHECKS
/
NAME AND ADDRESS OF THE MANUFACTURER
British Dragon
Europe
EXTERNAL LINKS
Please log in to write Andropen 450 review.