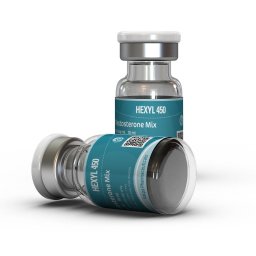 Kalpa Pharmaceuticals
Hexyl 450
Pre-Mixed Compound:
- TESTOSTERONE ACETATE 32 MG
- TESTOSTERONE PROPIONATE 73 MG
- TESTOSTERONE PHENYLPROPIONATE 73 MG
- TESTOSTERONE CYPIONATE 125 MG
- TESTOSTERONE DECANOATE 147 MG
Category: Injectable Anabolic Androgenic Steroid
Package: 10 mL Vial (450 mg/mL)
Brand: Kalpa Pharmaceuticals, India
Purpose: Mass, Bulking, Strength Cycle
Hexyl 450 Detailed
KALPA PHARMACEUTICALS HEXYL 450
Hexyl 450, crafted by Kalpa Pharmaceuticals, is a potent blend of testosterone esters formulated for sustained release and optimized anabolic effects. This injectable solution comprises Testosterone Acetate, Testosterone Propionate, Testosterone Phenylpropionate, Testosterone Cypionate, and Testosterone Decanoate.
DRUG COMPOSITION
Each milliliter of Hexyl 450 contains:
Testosterone Acetate 32 mg
Testosterone Propionate 73 mg
Testosterone Phenylpropionate 73 mg
Testosterone Cypionate 125 mg
Testosterone Decanoate 147 mg
PHARMACEUTICAL FORM
Hexyl 450 is presented as an injectable solution, providing a convenient and effective method of administration.
PHARMACEUTICAL GROUP AND ATC CODE
Pharmaceutical group: Androgens; ATC code: G03BA03 - Testosterone.
PHARMACOLOGICAL PROPERTIES
Hexyl 450 possesses both anabolic and androgenic properties, facilitating muscle growth, strength enhancement, and overall well-being. The diverse testosterone esters ensure a gradual and prolonged release of the hormone.
PROFILE
Chemical name: Testosterone Acetate, Testosterone Propionate, Testosterone Phenylpropionate, Testosterone Cypionate, Testosterone Decanoate
Chemical formula: C21H30O3 (Acetate), C22H32O3 (Propionate), C28H36O3 (Phenylpropionate), C27H40O3 (Cypionate), C29H46O3 (Decanoate)
Percentage of anabolic activity: 100.00%
Percentage of androgenic activity: 100.00%
Active half life: Varies (Acetate: 1 day, Propionate: 1.5 days, Phenylpropionate: 4.5 days, Cypionate: 8 days, Decanoate: 15 days)
Recommended dosage: 500-1000 mg per week
Acne: Possible
Bloating (water retention): Possible
HBR: Low
Hepatic toxicity: Low
Aromatization: High (due to testosterone)
THERAPEUTICAL INDICATIONS
Indicated for the treatment of testosterone deficiency conditions such as hypogonadism, Hexyl 450 is also employed in hormone replacement therapy.
DOSES AND METHOD OF ADMINISTRATION
Dosage varies based on individual factors, including experience, goals, and response. Administered via intramuscular injection, the frequency ranges from once a week to once every three weeks.
CYCLE/STACKING
Solo cycle:
Beginners: 300-500 mg per week for 12-16 weeks.
Intermediate: 500-750 mg per week for 10-12 weeks.
Advanced: 750-1000 mg per week for 8-12 weeks.
Cutting cycle:
Bulking cycle:
Synergistic stack with compounds like Nandroxyl 250 and Dianoxyl 10 for substantial muscle and strength gains.
Dosage may range from 500-1000 mg per week.
POST CYCLE THERAPY
PCT after Hexyl 450 cycle:
SIDE EFFECTS
Common side effects may include acne, water retention, and elevated blood pressure. Androgenic effects such as hair loss and virilization in females are potential concerns.
CONTRAINDICATIONS
Hexyl 450 is contraindicated in individuals with known hypersensitivity to testosterone, prostate or breast cancer, and pregnant or breastfeeding women.
OVERDOSE
In case of overdose, seek immediate medical attention. Symptoms may include nausea, vomiting, and changes in liver function.
WARNINGS AND SPECIAL PRECAUTIONS FOR USE:
Regular monitoring of hormonal levels and liver function is recommended during Hexyl 450 use.
INTERACTIONS WITH OTHER DRUGS
Hexyl 450 may interact with anticoagulants, insulin, and certain medications. Consultation with a healthcare professional is advised before combining medications.
PRESENTATION, PACKAGING
450 mg/mL in 10 mL vials.
STORAGE
Store Hexyl 450 at room temperature (20-25°C), shielded from light, and out of reach of children.
LEGAL STATUS
Hexyl 450 is a prescription medication, subject to legal regulations in various jurisdictions.
DATE OF LAST TEXT CHECKS
/
NAME AND ADDRESS OF THE MANUFACTURER
Kalpa Pharmaceuticals
India
EXTERNAL LINKS
Please log in to write Hexyl 450 review.