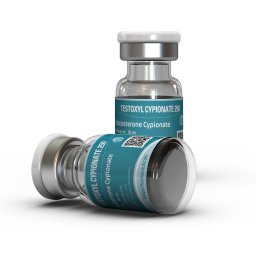 Kalpa Pharmaceuticals
Testoxyl Cypionate 250
TESTOSTERONE CYPIONATE 250 MG
Category: Androgen; Anabolic Steroid; Androgen Ester
Package: 10 mL Vial (250 mg/mL)
Brand: Kalpa Pharmaceuticals, India
Purpose: Mass, Bulking, Strength Cycle
Note: Warming and shaking the vial
should redissolve any crystals
that may have formed
during storage or shipping at a
temperature lower than recommended
Testoxyl Cypionate 250 Detailed
Kalpa Pharmaceuticals Testoxyl Cypionate 250 Profile
Chemical name: (17ОІ)-3-Oxoandrost-4-en-17-yl 3-cyclopentylpropanoate
Chemical formula: C27H40O3
Percentage of anabolic activity: 100.00%
Percentage of androgenic activity: 100.00%
Active half life: 15-16 days
Recommended dosage: 50-200 mg/week
Acne: yes
Bloating (water retention): yes
HBR: perhaps
Hepatic toxicity: no
Aromatization: yes
Product Description
Testoxyl Cypionate 250 is a synthetic anabolic steroid in the form of injections, which produces "on the light" the leading company for the production of drugs - Kalpa Pharmaceticus in India. Testoxyl is directly intended for cycles of building muscle mass and can be combined with many steroids, properly selected to it, to get a greater result on the course. This anabolic is chosen by those bodybuilders who strive for the highest weight gains and strength that will help to perform well and just give impetus to the growth of volumes.
Typically, the packaging is represented by 10 mL vial and the content of the active testosterone substance in the amount of 250 mg / mL. The duration of the anabolic after its intramuscular administration and the duration of the specifically of our drug is from 10 to 15 days [active] for this reason, it is better to buy Testoxyl Cypionate for cycles with a duration of at least 10- 12 weeks, during this period, the steroid will show everything that it can, in terms of performance, and a bodybuilder will make the full upgrade of its physical form.
But this does not mean that if you are a bodybuilder or powerlifter, then the injection of cypionate is needed once every two weeks, because you need a constant and even concentration of anabolic hormones in the blood. For this reason, we advise injecting 1 time per week, this will be quite enough for the systematic growth of muscle volumes. By dosages, it is worth starting with the initial value of 400 mg per week, if for example your own weight does not exceed 80 kg and this is not the only steroid on the cycle.
Testoxyl Cypionate Cycle
Of course, experienced athletes bring doses to 1000 mg and above, but this is already a lot of knowledgeable and advanced bodybuilders, the weight of which has already been over 100 kg. From 3-4 weeks with a course duration of 10 weeks and longer, we advise preventing from 1000 to 1500 IUs of HGH per week, which will help keep the performance of your testicles, and will also significantly speed up the recovery after completing the AAS cycle. For PCT, you should have on hands Clomixyl and Cebergoline [if Nandroxyl or Trenboxyl was used on the cycle].
To combine Testoxyl Cypionate for growth, it will be good with such anabolic preparations like - boldaxyl, trenboxyl hexa, turanaxyl, anadroxyl and stanoxyl. Usually the course consists of two injectable steroids and one in the form of tablets. Let us give an example of such a cycle:
Anadroxyl + Testoxyl Cypionate + Trenboxyl Enanthate
This is one of the most common cycles for bulking and weight gain, where dosages are selected individually, depending on the experience, weight and competence of an athlete. If this is your first cycle, then we recommend responsibly refer to the selection of AAS dosages, so as not to overdose anabolics. Nominal doses in the same sequence - 50-100 mg per day, 600 mg per week, 200 mg per week, respectively. According to the result, we will receive such advantages:
Rounding muscles and its visual growth
Increase working scales in training
Noticeably accelerated restoration of the body after training
Improving mood and total tone
Motivation to the training process.
Reference External Links
Testoxyl Cypionate 250 Reviews
Please log in to write Testoxyl Cypionate 250 review.