Kalpa Pharmaceuticals
Anadroxyl
OXYMETHOLONE 50 MG
Category: Androgen; Anabolic Steroid
Package: 50 pills (50 mg/pill)
Brand: Kalpa Pharmaceuticals, India
Purpose: Bulking & Strength Cycle
Anadroxyl Detailed
KALPA PHARMACEUTICALS ANADROXYL
Anadroxyl is an oral steroid containing oxymetholone as its active substance, with each tablet providing 50 mg of this potent compound.
DRUG COMPOSITION
Each tablet of Anadroxyl consists of 50 mg of oxymetholone, a synthetic anabolic steroid derived from dihydrotestosterone.
PHARMACEUTICAL FORM
Anadroxyl is formulated as an oral tablet for convenient administration and absorption.
PHARMACEUTICAL GROUP AND ATC CODE
Pharmaceutical group: Anabolic steroids for systemic use; ATC code: A14A A05.
PHARMACOLOGICAL PROPERTIES
Oxymetholone exhibits strong anabolic properties, promoting nitrogen retention, protein synthesis, and increasing red blood cell production. These effects contribute to muscle growth and enhanced athletic performance.
PROFILE
Chemical name: 17О±-Methyl-2-hydroxymethylene-17ОІ-hydroxy-[5О±]-androstan-3-one
Chemical formula: C21H32O3
Percentage of anabolic activity: 320.00%
Percentage of androgenic activity: 45.00%
Active half life: Approximately 8 hours
Recommended dosage: 50 to 150 mg per day
Acne: Possible
Bloating (water retention): High
HBR: High
Hepatic toxicity: High
Aromatization: None
THERAPEUTICAL INDICATIONS
Anadroxyl is indicated for the treatment of various conditions requiring increased muscle mass, such as certain types of anemia and cachexia. It is not intended for non-medical use or muscle enhancement in healthy individuals.
DOSES AND METHOD OF ADMINISTRATION
The typical dosage of Anadroxyl ranges from 50 to 150 mg per day, divided into multiple doses. The duration of use is often limited to 4 to 6 weeks.
CYCLE/STACKING
Solo cycle:
Duration: 4 to 6 weeks
Dosage: 50 to 100 mg per day
Cutting cycle:
Anadroxyl is not commonly used in cutting cycles due to its potential for water retention.
Bulking cycle:
Often used in bulking cycles to kick-start muscle gains.
POST CYCLE THERAPY
PCT is crucial to restore natural testosterone production. Clomixyl or nolvaxyl may be used, for example:
Clomixyl: 50 mg daily for 4 weeks
SIDE EFFECTS
Potential side effects include hepatotoxicity, cardiovascular issues, and androgenic effects such as acne and hair loss. Regular monitoring and medical supervision are essential.
CONTRAINDICATIONS
Contraindications include hypersensitivity to oxymetholone, pregnancy, breast cancer, and certain liver conditions.
OVERDOSE
Symptoms of overdose may include nausea, vomiting, and alterations in liver function. Seek medical attention if overdose is suspected.
WARNINGS AND SPECIAL PRECAUTIONS FOR USE:
Anadroxyl should be used cautiously, with regular liver function tests recommended. It is not intended for use in healthy individuals for non-medical purposes.
INTERACTIONS WITH OTHER DRUGS
Interactions may occur with medications affecting liver function. Consultation with a healthcare professional is recommended.
PRESENTATION, PACKAGING
50 tablets.
STORAGE
Anadroxyl should be stored according to the manufacturer's instructions, typically in a cool, dry place, and kept out of the reach of children.
LEGAL STATUS
The legal status of Anadroxyl may vary by jurisdiction. It is typically available only with a prescription.
LAB TEST RESULTS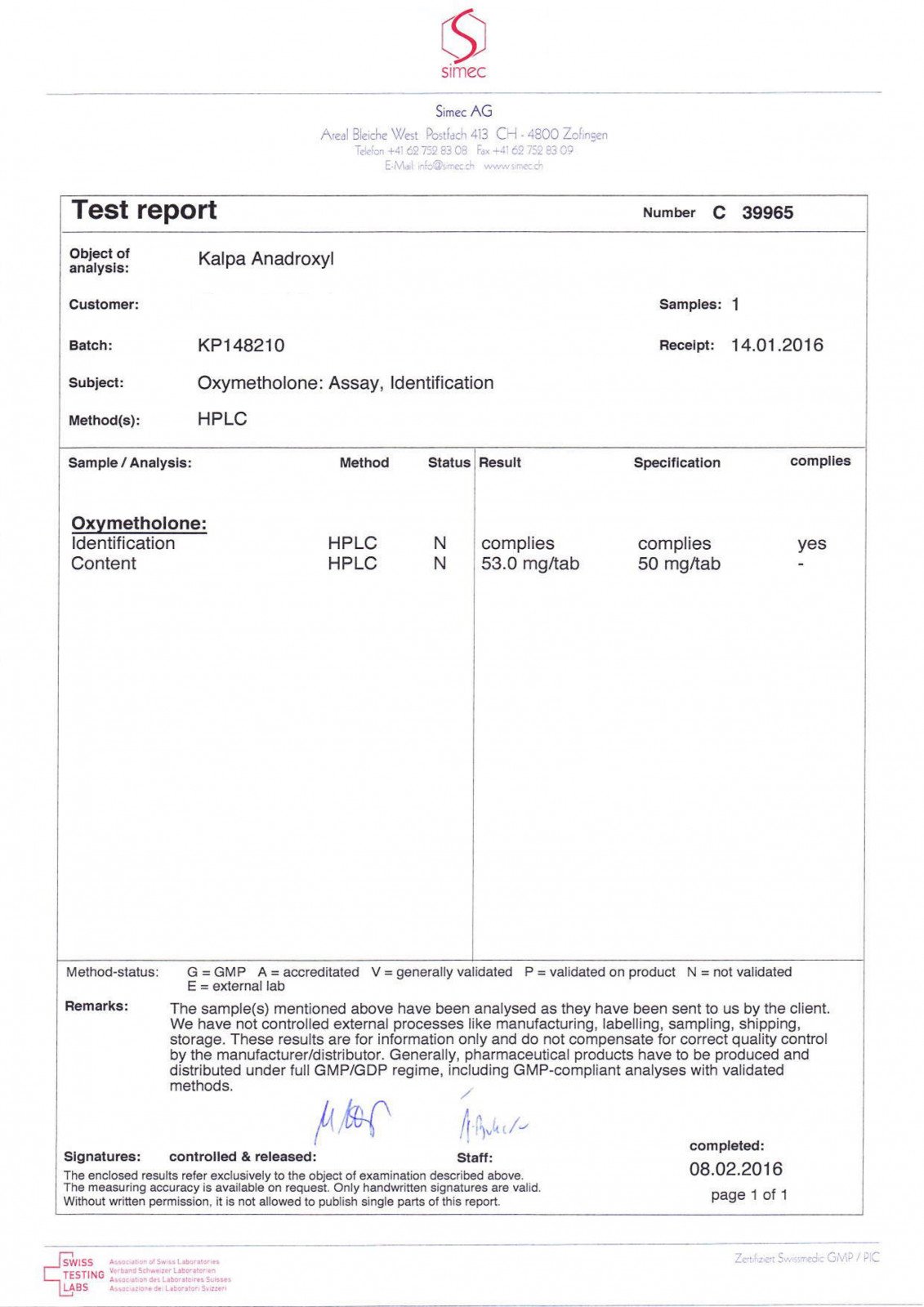 DATE OF LAST TEXT CHECKS
/
NAME AND ADDRESS OF THE MANUFACTURER
Kalpa Pharmaceuticals
India
EXTERNAL LINKS
Please log in to write Anadroxyl review.