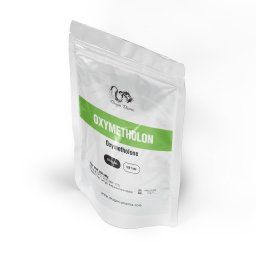 Dragon Pharma
Oxymetholon
OXYMETHOLONE 50 MG
Category: Androgen; Anabolic Steroid
Package: 100 pills (50 mg/pill)
Brand: Dragon Pharma, Europe
Purpose: Bulking & Strength Cycle
Oxymetholon Detailed
DRAGON PHARMA OXYMETHOLON
Oxymetholone, commonly known by its brand name Anadrol, is a potent oral anabolic steroid with strong androgenic properties. It is derived from dihydrotestosterone and is recognized for its remarkable impact on promoting muscle growth and increasing red blood cell production.
DRUG COMPOSITION
Oxymetholone is the primary active ingredient in the drug Anadrol. Each tablet typically contains a specific dosage of oxymetholone, with variations depending on the pharmaceutical manufacturer.
PHARMACEUTICAL FORM
Anadrol is formulated as oral tablets, usually circular and scored for ease of dosage adjustment. The tablets may vary in color, and the packaging often includes information on the dosage strength.
PHARMACEUTICAL GROUP AND ATC CODE
Oxymetholone belongs to the pharmacotherapeutic group of anabolic steroids, specifically within the subgroup of androgens. It is not assigned a unique Anatomical Therapeutic Chemical (ATC) code.
PHARMACOLOGICAL PROPERTIES
Oxymetholone exerts its effects by enhancing protein synthesis and nitrogen retention, leading to increased muscle mass. Additionally, it stimulates erythropoiesis, contributing to elevated red blood cell counts.
PROFILE
Chemical name: 17О±-Methyl-2-hydroxymethylene-17ОІ-hydroxy-[5О±]-androstan-3-one
Chemical formula: C21H32O3
Percentage of anabolic activity: 320.00%
Percentage of androgenic activity: 45.00%
Active half life: 8 hours
Recommended dosage: 50-100 mg/day
Acne: yes
Bloating (water retention): high
HBR: yes
Hepatic toxicity: yes
Aromatization: no
THERAPEUTICAL INDICATIONS
Oxymetholone is indicated in the treatment of various medical conditions, including anemia associated with chronic renal failure, myelofibrosis, and certain types of malnutrition. However, its therapeutic use has diminished over time due to potential side effects.
DOSES AND METHOD OF ADMINISTRATION
The dosage of Oxymetholone varies based on the medical condition being treated. In non-medical settings, bodybuilders and athletes may use doses ranging from 50 to 150 mg per day. The drug is typically administered orally.
CYCLE/STACKING
An example of an Oxymetholone cycle might involve a duration of 4 to 6 weeks, with a gradual increase in dosage. Post-cycle therapy (PCT) is recommended to support the body's natural hormone production.
POST CYCLE THERAPY
Post-cycle therapy following Oxymetholone use involves the use of medications such as selective estrogen receptor modulators (SERMs) and human chorionic gonadotropin (hCG) to restore hormonal balance.
SIDE EFFECTS
Common side effects of Oxymetholone include liver toxicity, water retention, and elevated blood pressure. Androgenic side effects such as acne and male pattern baldness may also occur. Regular monitoring for side effects is crucial.
CONTRAINDICATIONS
Oxymetholone is contraindicated in individuals with a history of allergic reactions to the drug, as well as in those with certain medical conditions such as prostate cancer, breast cancer, and hypercalcemia.
OVERDOSE
Acute overdose with Oxymetholone may result in intensified side effects. Immediate medical attention is advised if overdose is suspected.
WARNINGS AND SPECIAL PRECAUTIONS FOR USE:
Caution is warranted in individuals with pre-existing liver conditions, cardiovascular issues, and those prone to androgenic side effects. Regular medical check-ups are recommended during use.
INTERACTIONS WITH OTHER DRUGS
Oxymetholone may interact with various medications, including anticoagulants and insulin. Healthcare professionals should be informed of all medications in use.
PRESENTATION, PACKAGING
100 tablets in sachet.
STORAGE
Oxymetholone tablets should be stored in a cool, dry place away from direct sunlight. Adherence to recommended storage conditions is essential for maintaining the drug's stability.
DELIVERY TO THE USA
Oxymetholon is available for secure and discreet delivery to the USA through authorized supplier - Steroid.biz.
LEGAL STATUS
Oxymetholone is often classified as a controlled substance, subject to legal regulations governing its possession, distribution, and use. Compliance with local laws and regulations is necessary.
LAB TEST RESULTS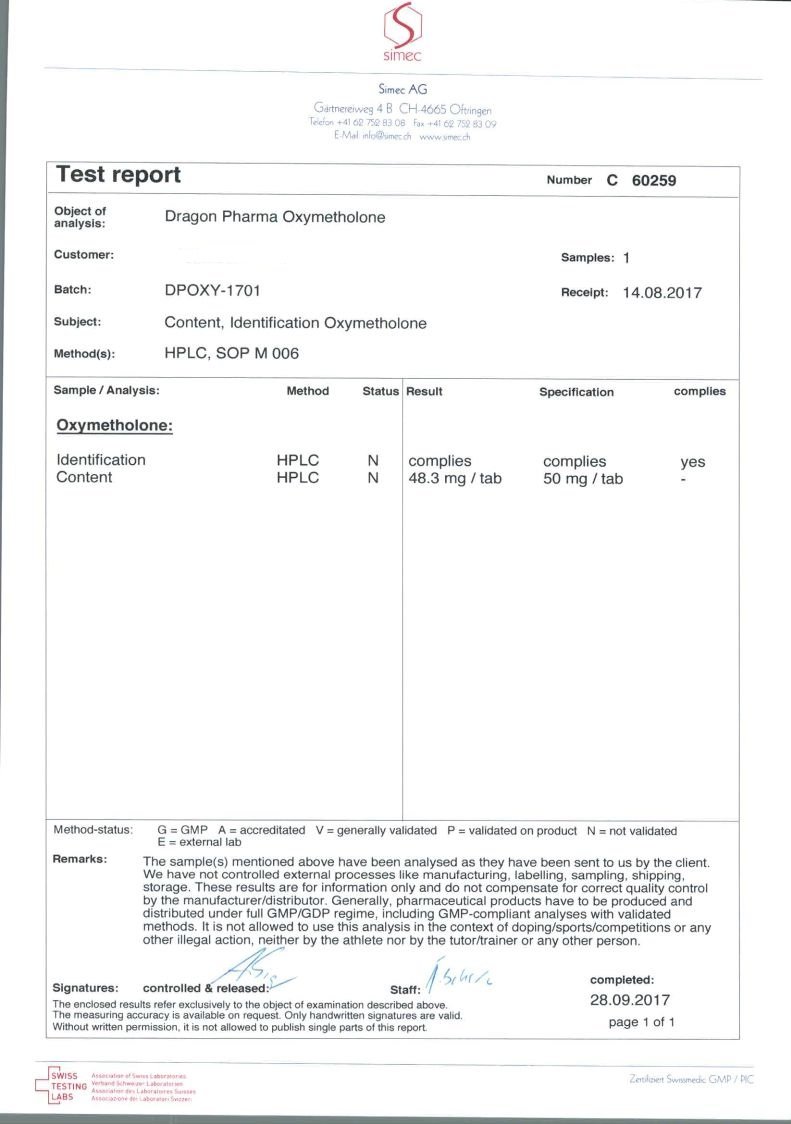 DATE OF LAST TEXT CHECKS
/
NAME AND ADDRESS OF THE MANUFACTURER
Dragon Pharma
Europe
EXTERNAL LINKS
Please log in to write Oxymetholon review.