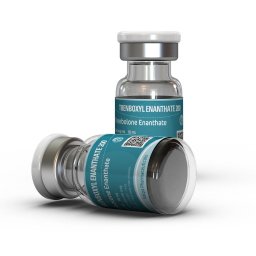 Kalpa Pharmaceuticals
Trenboxyl Enanthate 200
TRENBOLONE ENANTHATE 200 MG
Category: Androgen; Anabolic Steroid; Androgen Ester; Progestogen
Package: 10 mL Vial (200 mg/mL)
Brand: Kalpa Pharmaceuticals, India
Purpose: Fat Loss / Muscle Building Cycle
Trenboxyl Enanthate 200 Detailed
KALPA PHARMACEUTICALS TRENBOXYL ENANTHATE 200
Trenboxyl Enanthate 200, manufactured by Kalpa Pharmaceuticals, is a powerful anabolic steroid featuring Trenbolone Enanthate as its active component. Designed for intramuscular administration, it is known for its prolonged action and effectiveness in promoting muscle growth and strength.
DRUG COMPOSITION
Each milliliter of Trenboxyl Enanthate 200 contains 200 mg of Trenbolone Enanthate.
PHARMACEUTICAL FORM
Presented in injectable form, Trenboxyl Enanthate 200 is designed for efficient and controlled delivery.
PHARMACEUTICAL GROUP AND ATC CODE
Pharmaceutical group: Anabolic steroids; ATC code: A14A - Anabolic steroids.
PHARMACOLOGICAL PROPERTIES
Trenbolone Enanthate possesses potent anabolic properties, promoting protein synthesis, nitrogen retention, and enhancing overall muscle development. It has a prolonged activity due to the enanthate ester.
PROFILE
Chemical name: (17ОІ)-3-Oxoestra-4,9,11-trien-17-yl heptanoate
Chemical formula: C25H34O3
Percentage of anabolic activity: 500.00%
Percentage of androgenic activity: 500.00%
Active half life: Approximately 7-10 days
Recommended dosage: 100-200 mg per week
Acne: Possible
Bloating (water retention): Low
HBR: Low
Hepatic toxicity: Low
Aromatization: None
THERAPEUTICAL INDICATIONS
Trenboxyl Enanthate 200 is not indicated for therapeutic purposes. It is mainly employed in bodybuilding and athletic circles for its muscle-building effects.
DOSES AND METHOD OF ADMINISTRATION
Dosage and administration guidelines should be determined by a qualified healthcare professional or experienced bodybuilding coach. Trenboxyl Enanthate 200 is typically administered through intramuscular injection.
CYCLE/STACKING
Solo cycle:
Trenboxyl Enanthate 200 solo cycles often range from 8 to 12 weeks. Dosages should be carefully calibrated based on individual response and tolerance.
Cutting cycle:
For cutting, Trenboxyl Enanthate 200 can be stacked with compounds like Stanoxyl or Oxandroxyl to enhance muscle definition and fat loss.
Bulking cycle:
In bulking cycles, combining Trenboxyl Enanthate 200 with Testoxyl Cypionate or other testosterone compounds can lead to substantial muscle mass gains.
POST CYCLE THERAPY
Post cycle therapy may include compounds like Clomixyl to restore natural hormone levels and mitigate potential side effects.
SIDE EFFECTS
Common side effects may include insomnia, increased sweating, and anxiety. Serious side effects may include cardiovascular issues and androgenic effects like hair loss.
CONTRAINDICATIONS
Trenboxyl Enanthate 200 is contraindicated in individuals with a history of cardiovascular issues, prostate cancer, and women during pregnancy. It is not recommended for novice users.
OVERDOSE
Overdose symptoms may include severe cardiovascular effects. Immediate medical attention is necessary in case of an overdose.
WARNINGS AND SPECIAL PRECAUTIONS FOR USE:
Users should be cautious of potential androgenic side effects and closely monitor cardiovascular health. Regular check-ups are advised.
INTERACTIONS WITH OTHER DRUGS
Trenboxyl Enanthate 200 may interact with anticoagulants and insulin. Inform healthcare providers of all medications being taken.
PRESENTATION, PACKAGING
200 mg/mL in 10 mL vials.
STORAGE
Store Trenboxyl Enanthate 200 in a cool, dry place, away from direct sunlight.
LEGAL STATUS
Trenboxyl Enanthate 200 is a prescription-only medication and is subject to legal regulations.
DATE OF LAST TEXT CHECKS
/
NAME AND ADDRESS OF THE MANUFACTURER
Kalpa Pharmaceuticals
India
EXTERNAL LINKS
Please log in to write Trenboxyl Enanthate 200 review.