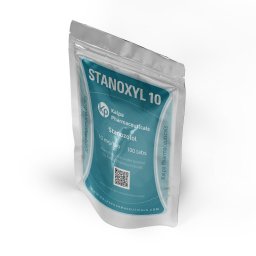 Kalpa Pharmaceuticals
Stanoxyl 10
STANOZOLOL 10 MG
Category: Androgen; Anabolic Steroid
Package: 100 pills (10 mg/pill)
Brand: Kalpa Pharmaceuticals, India
Purpose: Cutting Cycle
Stanoxyl 10 Detailed
KALPA PHARMACEUTICALS STANOXYL 10
Stanoxyl 10, produced by Kalpa Pharmaceuticals, is an oral anabolic steroid containing Stanozolol as its active ingredient. It is a popular choice among athletes and bodybuilders for its anabolic properties and ability to enhance physical performance.
DRUG COMPOSITION
Each tablet of Stanoxyl 10 contains:
PHARMACEUTICAL FORM
Stanoxyl 10 is presented in the form of oral tablets, providing a convenient and efficient means of administration.
PHARMACEUTICAL GROUP AND ATC CODE
Pharmaceutical group: Anabolic steroids for systemic use; ATC code: A14A - Anabolic steroids.
PHARMACOLOGICAL PROPERTIES
Stanozolol, a derivative of dihydrotestosterone (DHT), possesses both anabolic and androgenic properties. It promotes protein synthesis, boosts nitrogen retention, and increases red blood cell production, contributing to muscle growth and improved athletic performance.
PROFILE
Chemical name: 17О±-Methyl-17ОІ-hydroxy-[5О±]-androst-2-eno[3,2-c]pyrazole
Chemical formula: C21H32N2O
Percentage of anabolic activity: 320.00%
Percentage of androgenic activity: 30.00%
Active half life: 9 hours
Recommended dosage: 10-20 mg/day
Acne: yes
Bloating (water retention): no
HBR: perhaps
Hepatic toxicity: yes
Aromatization: no
THERAPEUTICAL INDICATIONS
Stanoxyl 10 is indicated for the treatment of conditions such as muscle wasting, osteoporosis, and anemia. In the athletic realm, it is commonly utilized for performance enhancement and body recomposition.
DOSES AND METHOD OF ADMINISTRATION
The recommended dose of Stanoxyl 10 varies based on individual goals, experience, and tolerance. It is typically administered orally, with or without food.
CYCLE/STACKING
Solo cycle:
Beginner: 20-30 mg per day for 6-8 weeks
Intermediate: 30-50 mg per day for 6-8 weeks
Advanced: 50 mg or more per day for 8-12 weeks
Cutting cycle:
Stanoxyl 10 is often used during cutting cycles to preserve lean muscle mass while reducing body fat. A typical dosage ranges from 30-50 mg per day.
Bulking cycle:
Stanoxyl 10 may be included in a bulking cycle at a lower dose (20-30 mg per day) to provide lean gains without excessive water retention.
POST CYCLE THERAPY
Post-Stanoxyl 10 PCT:
SIDE EFFECTS
Common side effects may include liver strain, joint pain, and cardiovascular issues. Virilization symptoms are possible in female users.
CONTRAINDICATIONS
Stanoxyl 10 is contraindicated in individuals with known hypersensitivity to Stanozolol and those with prostate or breast cancer.
OVERDOSE
In case of overdose, seek immediate medical attention. Symptoms may include nausea, vomiting, and changes in liver function.
WARNINGS AND SPECIAL PRECAUTIONS FOR USE:
Regular medical check-ups and monitoring of liver function are advisable during Stanoxyl 10 use.
INTERACTIONS WITH OTHER DRUGS
Stanoxyl 10 may interact with anticoagulants, insulin, and certain medications. Consultation with a healthcare professional is recommended before combining medications.
PRESENTATION, PACKAGING
10 mg/tablet, 100 tablets in sachet.
STORAGE
Store Stanoxyl 10 at room temperature (20-25°C), protected from light and moisture. Keep out of reach of children.
LEGAL STATUS
Stanoxyl 10 is a prescription medication, subject to legal regulations in various jurisdictions.
LAB TEST RESULTS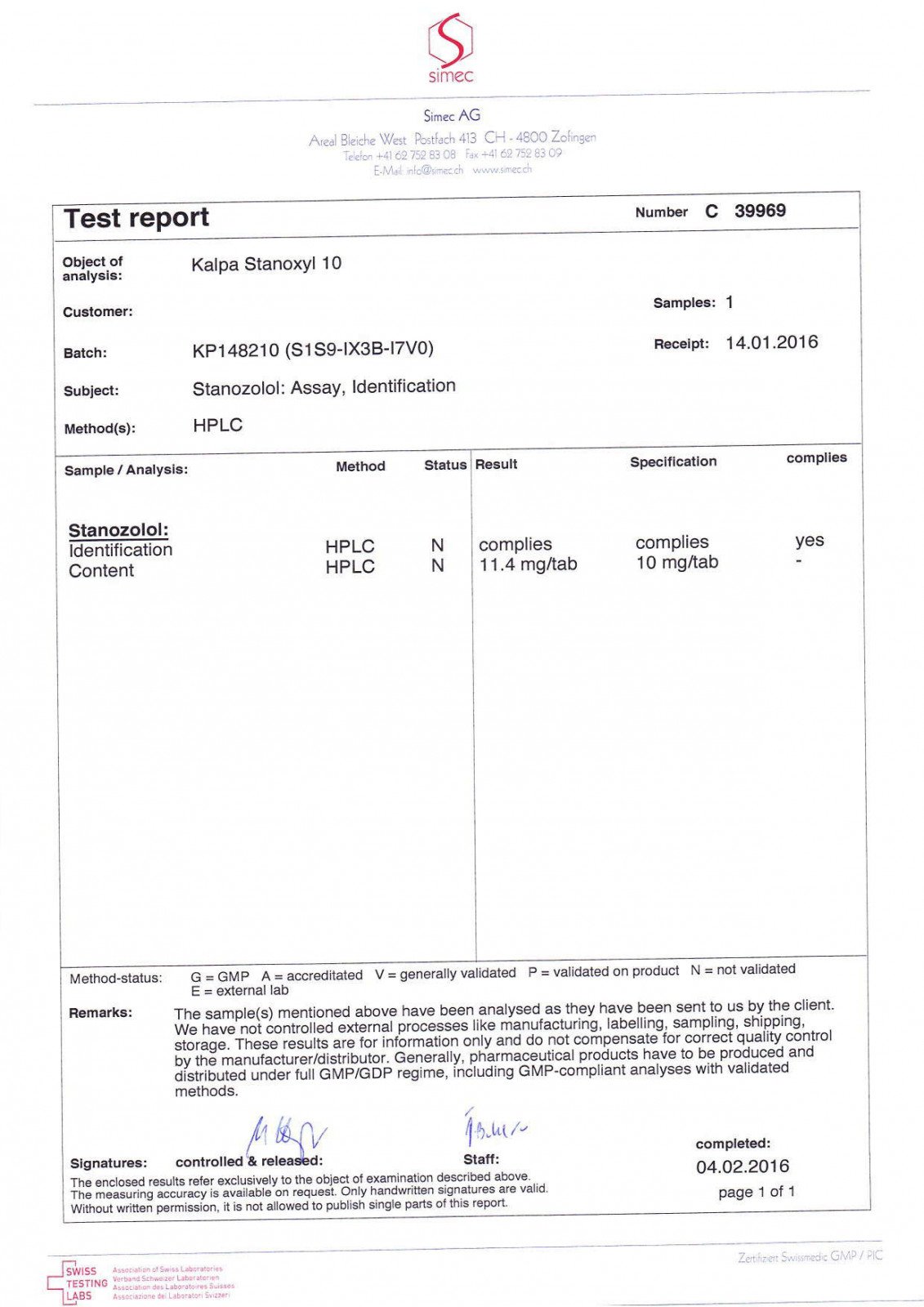 DATE OF LAST TEXT CHECKS
/
NAME AND ADDRESS OF THE MANUFACTURER
Kalpa Pharmaceuticals
India
EXTERNAL LINKS
Please log in to write Stanoxyl 10 review.