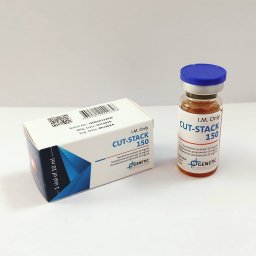 Genetic Pharmaceuticals
Cut-Stack 150 [10 mL Vial]
Pre-Mixed Compound:
- DROSTANOLONE PROPIONATE 50 MG
- TESTOSTERONE PROPIONATE 50 MG
- TRENBOLONE ACETATE 50 MG
Category: Injectable Anabolic Steroid
Package: 10 mL Vial (150 mg/mL)
Brand: Genetic Pharmaceuticals
Purpose: Cutting Cycle
Cut-Stack 150 [10 mL Vial] Detailed
GENETIC PHARMACEUTICALS CUT-STACK 150
Cut-Stack 150 by Genetic Pharmaceuticals is a potent injectable steroid presented in a 10 mL vial. It combines three powerful active substances—Testosterone Propionate, Drostanolone Propionate, and Trenbolone Acetate—each contributing to a synergistic effect on muscle growth and definition.
DRUG COMPOSITION
Each milliliter of Cut-Stack 150 contains 50 mg of Testosterone Propionate, 50 mg of Drostanolone Propionate, and 50 mg of Trenbolone Acetate.
PHARMACEUTICAL FORM
Cut-Stack 150 is formulated as an injectable solution.
PHARMACEUTICAL GROUP AND ATC CODE
As a combination of androgens and anabolic steroids, Cut-Stack 150 falls under the group of systemic hormonal preparations. Its Anatomical Therapeutic Chemical (ATC) code is A14A.
PHARMACOLOGICAL PROPERTIES
The combination of Testosterone Propionate, Drostanolone Propionate, and Trenbolone Acetate enhances protein synthesis, nitrogen retention, and overall anabolic activity. This results in accelerated muscle growth and increased strength.
PROFILE
Chemical name: -
Chemical formula: -
Percentage of anabolic activity: -
Percentage of androgenic activity: -
Active half life: 2-3 days
Recommended dosage: 500-750 mg/week
Acne: Possible
Bloating (water retention): Moderate
HBR: Moderate
Hepatic toxicity: Moderate
Aromatization: Yes (testosterone component)
THERAPEUTICAL INDICATIONS
Cut-Stack 150 is utilized in bodybuilding to promote muscle mass, strength, and a defined physique.
DOSES AND METHOD OF ADMINISTRATION
For men in bodybuilding, a typical dose ranges from 300 to 600 mg per week. Women should avoid using this blend due to potential androgenic effects. Injections are administered every other day for optimal results.
CYCLE/STACKING
Solo Cycle:
Administer 450 mg per week for 8 weeks to experience a balanced enhancement of muscle mass and definition.
Cutting Cycle:
Stack Cut-Stack 150 with Oxandrolone or Stanozolol for an effective cutting phase. Example: 450 mg per week of Cut-Stack 150 with 50 mg/day of Winstrol for 10 weeks.
Bulking Cycle:
Combine Cut-Stack 150 with Testosterone and Dianabol for a powerful bulking stack. Example: 600 mg per week of Cut-Stack 150 with 500 mg/week of Testosterone and 30 mg/day of Methandienone for 12 weeks.
POST CYCLE THERAPY
Conduct PCT with Clomiphene or Tamoxifen after the cycle to restore natural testosterone production. Example: Clomid 50 mg/day for 4 weeks.
SIDE EFFECTS
Potential side effects may include androgenic effects such as acne, hair loss, and increased aggression. Cardiovascular issues and suppression of natural testosterone production are also possible.
CONTRAINDICATIONS
Avoid use in individuals with known hypersensitivity to any of the components or those with a history of cardiovascular issues.
OVERDOSE
In case of overdose symptoms, seek medical attention promptly.
WARNINGS AND SPECIAL PRECAUTIONS FOR USE:
Exercise caution in individuals with pre-existing conditions such as cardiovascular disease or liver dysfunction.
INTERACTIONS WITH OTHER DRUGS
Monitor interactions with other steroids or medications that may affect cardiovascular health.
PRESENTATION, PACKAGING
Cut-Stack 150 is presented in a 10 mL vial.
STORAGE
Store in a cool, dry place, away from direct sunlight. Keep out of reach of children.
DELIVERY TO THE USA
Our delivery services ensure secure and timely delivery of Cut-Stack 150 to customers in the USA.
LEGAL STATUS
Verify the legal status of Cut-Stack 150 in your region before purchase and use.
DATE OF LAST TEXT CHECKS
/
NAME AND ADDRESS OF THE MANUFACTURER
Genetic Pharmaceuticals
India
EXTERNAL LINKS
Please log in to write Cut-Stack 150 [10 mL Vial] review.