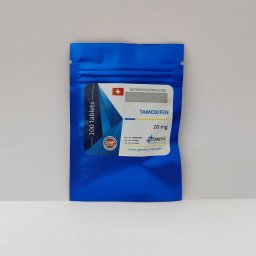 Genetic Pharmaceuticals
Tamoxifen
TAMOXIFEN CITRATE 20 MG
Category: Selective Estrogen Receptor Modulator
Package: 100 pills (20 mg/pill)
Brand: Genetic Pharmaceuticals
Purpose: Prevent Estrogenic Related Side Effects
Tamoxifen Detailed
GENETIC PHARMACEUTICALS TAMOXIFEN
Tamoxifen, featuring the active substance Tamoxifen Citrate 20 mg, is a selective estrogen receptor modulator (SERM) designed to treat and prevent certain types of breast cancer. In bodybuilding, it is used to mitigate estrogenic side effects during and after steroid cycles.
DRUG COMPOSITION
Each Tamoxifen tablet is meticulously crafted to contain 20 mg of Tamoxifen Citrate, ensuring precise and consistent dosing.
PHARMACEUTICAL FORM
Tamoxifen is available in oral tablet form, providing ease of administration.
PHARMACEUTICAL GROUP AND ATC CODE
As a SERM, Tamoxifen belongs to the group of antineoplastic and immunomodulating agents. Its Anatomical Therapeutic Chemical (ATC) code is L02BA01.
PHARMACOLOGICAL PROPERTIES
Tamoxifen functions by competitively binding to estrogen receptors, inhibiting the effects of estrogen. This property is exploited in the treatment and prevention of certain types of breast cancer.
PROFILE
Chemical name: Tamoxifen citrate
Chemical formula: C32H37NO8
Percentage of anabolic activity: N/A
Percentage of androgenic activity: N/A
Active half life: 5-7 days
Recommended dosage: 20-40 mg per day
Acne: Possible
Bloating (water retention): Rare
HBR: Low
Hepatic toxicity: Possible, but rare
Aromatization: No
THERAPEUTICAL INDICATIONS
Tamoxifen is primarily indicated for the treatment of breast cancer, both in the adjuvant and metastatic settings. In bodybuilding, it is employed to prevent and alleviate gynecomastia and other estrogen-related side effects.
DOSES AND METHOD OF ADMINISTRATION
For bodybuilders, a typical Tamoxifen dose may range from 10 to 40 mg per day. Adjustments are made based on individual response and the severity of estrogenic side effects.
CYCLE/STACKING
Solo Cycle:
Begin with 20 mg per day and adjust as needed to manage estrogenic side effects during a steroid cycle.
Cutting Cycle:
Combine Tamoxifen with non-aromatizable steroids during a cutting cycle. Example: Tamoxifen 20 mg per day with Oxandrolone 20 mg per day for an 8-week cutting cycle.
Bulking Cycle:
Include Tamoxifen in bulking cycles to counteract estrogenic side effects. Example: Tamoxifen 10 mg every other day with Testosterone Enanthate 500 mg per week for a 12-week bulking cycle.
POST CYCLE THERAPY
Tamoxifen is a cornerstone of post-cycle therapy (PCT). An example is 20 mg per day for the first three weeks, followed by 10 mg per day for another three weeks.
SIDE EFFECTS
Possible side effects include hot flashes, nausea, and mood swings. Monitoring is crucial to address any adverse reactions promptly.
CONTRAINDICATIONS
Individuals with a history of blood clots or certain eye conditions should avoid Tamoxifen.
OVERDOSE
In case of overdose symptoms, seek medical attention. There is no specific antidote.
WARNINGS AND SPECIAL PRECAUTIONS FOR USE:
Regular monitoring is crucial during Tamoxifen use, especially in women. Caution is advised in patients with a history of liver disease.
INTERACTIONS WITH OTHER DRUGS
Exercise caution when combining Tamoxifen with other drugs, particularly those affecting liver function or hormonal balance.
PRESENTATION, PACKAGING
20 mg per tablet, 100 tablets in sachet.
STORAGE
Store Tamoxifen in a cool, dry place, away from sunlight and moisture. Keep it out of reach of children.
DELIVERY TO THE USA
Our delivery services ensure timely and secure delivery of Tamoxifen to customers in the USA.
LEGAL STATUS
Tamoxifen is subject to regulatory restrictions. Verify its legal status before obtaining Tamoxifen.
DATE OF LAST TEXT CHECKS
/
NAME AND ADDRESS OF THE MANUFACTURER
Genetic Pharmaceuticals
India
EXTERNAL LINKS
Please log in to write Tamoxifen review.