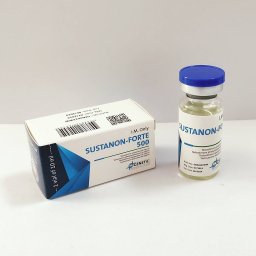 Genetic Pharmaceuticals
Sustanon-Forte 500 [10 mL Vial]
Pre-Mixed Compound:
- TESTOSTERONE PROPIONATE 60 MG
- TESTOSTERONE PHENYLPROPIONATE 120 MG
- TESTOSTERONE ISOCAPROATE 120 MG
- TESTOSTERONE DECANOATE 200 MG
Category: Injectable Anabolic Androgenic Steroid
Package: 10 mL Vial (500 mg/mL)
Brand: Genetic Pharmaceuticals
Purpose: Mass, Bulking, Strength Cycle
Sustanon-Forte 500 [10 mL Vial] Detailed
GENETIC PHARMACEUTICALS SUSTANON-FORTE 500
Sustanon-Forte 500 by Genetic Pharmaceuticals is a robust testosterone blend meticulously crafted to meet the demands of serious bodybuilders. With a powerful composition of Testosterone Propionate, Testosterone Phenylpropionate, Testosterone Isocaproate, and Testosterone Decanoate, this injectable solution is designed to deliver sustained testosterone release for optimized muscle development and performance enhancement.
DRUG COMPOSITION
Each 10 mL vial of Sustanon-Forte 500 contains Testosterone Propionate 60 mg/mL, Testosterone Phenylpropionate 120 mg/mL, Testosterone Isocaproate 120 mg/mL, and Testosterone Decanoate 200 mg/mL, ensuring a comprehensive and potent testosterone profile.
PHARMACEUTICAL FORM
Sustanon-Forte 500 is presented as an injectable solution in a 10 mL vial, allowing for precise administration and the maintenance of peak testosterone levels.
PHARMACEUTICAL GROUP AND ATC CODE
As a member of the androgens pharmacological group, Sustanon-Forte 500 falls under the ATC code of G03BA03.
PHARMACOLOGICAL PROPERTIES
Sustanon-Forte 500 leverages the pharmacological properties of testosterone to enhance nitrogen retention, stimulate protein synthesis, and elevate red blood cell production. These properties contribute to increased muscle mass, strength, and overall athletic performance.
PROFILE
Chemical name: Testosterone Propionate, Testosterone Phenylpropionate, Testosterone Isocaproate, Testosterone Decanoate
Chemical formula: (Dependent on the specific ester)
Percentage of anabolic activity: 100.00%
Percentage of androgenic activity: 100.00%
Active half life: 7-8 days
Recommended dosage: 500-1000 mg per week
Acne: Possible
Bloating (water retention): Possible
HBR: Low
Hepatic toxicity: Low
Aromatization: High (due to testosterone)
THERAPEUTICAL INDICATIONS
Sustanon-Forte 500 is indicated for testosterone replacement therapy in males with conditions associated with a deficiency or absence of endogenous testosterone.
DOSES AND METHOD OF ADMINISTRATION
For men in bodybuilding, the recommended dose ranges from 500 mg to 1000 mg per week. Due to its potent nature, women are advised to avoid Sustanon-Forte 500. Administration is typically via intramuscular injection, ensuring a steady release of testosterone.
CYCLE/STACKING
Solo Cycle:
In bodybuilding, a solo cycle may involve a dosage of 750 mg per week administered over a 12-week period. This provides a solid foundation for substantial muscle growth and strength gains.
Cutting Cycle:
For a cutting cycle, Sustanon-Forte 500 can be stacked with products like Trenbolone acetate and Oxandrolone. An example dosage might be 750 mg of Sustanon per week combined with appropriate dosages of Trenbolone and Oxandrolone over an 8 to 10-week period.
Bulking Cycle:
In a bulking cycle, Sustanon-Forte 500 can be stacked with Nandrolone decanoate and Methandienone. An example dosage might be 1000 mg of Sustanon per week combined with appropriate dosages of nandrolone decanoate and methandienone over a 12-week period.
POST CYCLE THERAPY
Post-cycle therapy (PCT) following Sustanon-Forte 500 may involve the use of compounds like clomiphene or tamoxifen. An example includes Clomid at 50 mg per day for four weeks to facilitate the restoration of natural testosterone production.
SIDE EFFECTS
Potential side effects may include estrogenic and androgenic effects, cardiovascular issues, and the suppression of natural testosterone production. Users should monitor and address these effects promptly.
CONTRAINDICATIONS
Contraindications include known or suspected prostate or breast cancer, pregnancy, and hypersensitivity to the product.
OVERDOSE
Excessive dosages may lead to androgenic and estrogenic side effects. Immediate medical attention is recommended in case of overdose.
WARNINGS AND SPECIAL PRECAUTIONS FOR USE:
Users should be cautious about potential adverse effects and undergo regular medical check-ups. Individuals with pre-existing medical conditions should seek professional advice before use.
INTERACTIONS WITH OTHER DRUGS
Sustanon-Forte 500 may interact with anticoagulants, insulin, and corticosteroids. Consultation with a healthcare professional is strongly advised.
PRESENTATION, PACKAGING
Sustanon-Forte 500 is presented in a 10 mL vial, ensuring the integrity of the product, and is meticulously packaged for optimal preservation.
STORAGE
Store Sustanon-Forte 500 in a cool, dry place, away from direct sunlight, and at a controlled room temperature.
DELIVERY TO THE USA
Efficient and secure delivery to the USA is ensured through reliable channels of Steroid.biz, providing users with a convenient and timely supply.
LEGAL STATUS
Sustanon-Forte 500 is a prescription medication, and its use must adhere to local regulations under the supervision of qualified medical professionals.
DATE OF LAST TEXT CHECKS
/
NAME AND ADDRESS OF THE MANUFACTURER
Genetic Pharmaceuticals
India
EXTERNAL LINKS
Please log in to write Sustanon-Forte 500 [10 mL Vial] review.