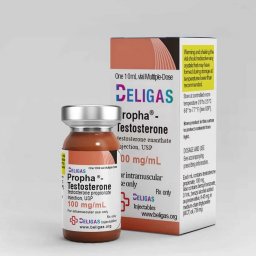 Beligas Pharmaceuticals
Propha-Testosterone
TESTOSTERONE PROPIONATE 100 MG
Category: Androgen; Anabolic Steroid; Androgen Ester
Package: 10 mL Vial (100 mg/mL)
Brand: Beligas Pharmaceuticals
Purpose: Mass, Bulking, Strength Cycle
Propha-Testosterone Detailed
BELIGAS PHARMACEUTICALS PROPHA-TESTOSTERONE
Propha-Testosterone 100, crafted by Beligas Pharmaceuticals, is a high-quality anabolic steroid featuring 100 mg of Testosterone Propionate. This pharmaceutical marvel is designed to provide rapid and sustained testosterone release.
DRUG COMPOSITION
Each vial of Propha-Testosterone 100 contains a precisely formulated 100 mg of Testosterone Propionate, a short-estered testosterone variant.
PHARMACEUTICAL FORM
Propha-Testosterone 100 is expertly formulated as an injectable solution, allowing for convenient and efficient administration.
PHARMACEUTICAL GROUP AND ATC CODE
Pharmaceutical Group: Androgen and anabolic steroid
ATC Code: G03BA03
PHARMACOLOGICAL PROPERTIES
Testosterone Propionate, the active ingredient in Propha-Testosterone 100, is a powerful androgen with marked anabolic properties. It enhances nitrogen retention, protein synthesis, and overall muscle growth.
PROFILE
Chemical name: (17ОІ)-3-Oxoandrost-4-en-17-yl propanoate
Chemical formula: C22H32O3
Percentage of anabolic activity: 100.00%
Percentage of androgenic activity: 100.00%
Active half life: 2-3 days
Recommended dosage: 100-200 mg every other day
Acne: Possible
Bloating (water retention): Possible
HBR: Low
Hepatic toxicity: Low
Aromatization: Yes
THERAPEUTICAL INDICATIONS
Propha-Testosterone 100 is primarily indicated for:
Treatment of testosterone deficiency in males.
Promotion of muscle growth.
Improvement of physical performance.
DOSES AND METHOD OF ADMINISTRATION
Typical dosage ranges from 100 to 200 mg every other day. Administered via intramuscular injection. Dosage may vary based on individual response and cycle goals.
CYCLE/STACKING
Solo Cycle:
Dosage: 150 mg every other day.
Ideal for beginners or those seeking a modest yet effective cycle.
Cycle Length: 8-12 weeks.
Cutting Cycle:
Dosage: 100 mg every other day.
Stack with compounds like Pro-Winstrol or Pro-Anavar for enhanced definition.
Cycle Length: 8-10 weeks.
Bulking Cycle:
Dosage: 200 mg every other day.
Combine with compounds like Deca-Durabolin or Dynabol for significant muscle gains.
Cycle Length: 10-12 weeks.
POST CYCLE THERAPY
Initiate PCT with compounds like Clomid or Nolvadex to restore natural testosterone levels.
SIDE EFFECTS
Potential side effects may include estrogen-related issues such as gynecomastia, water retention, and acne. Regular monitoring and management are essential.
CONTRAINDICATIONS
Propha-Testosterone 100 is contraindicated in individuals with hypersensitivity to the drug, prostate or breast cancer, and pregnant or breastfeeding women.
OVERDOSE
Excessive doses may exacerbate side effects. Seek immediate medical attention if overdose symptoms are suspected.
WARNINGS AND SPECIAL PRECAUTIONS FOR USE:
Regular monitoring of prostate-specific antigen (PSA) levels is advisable. Caution in patients with cardiovascular or renal issues.
INTERACTIONS WITH OTHER DRUGS
Potential interactions may occur with anticoagulants, corticosteroids, and insulin. Consultation with a healthcare provider is crucial.
PRESENTATION, PACKAGING
100 mg per mL in 10 mL vials.
STORAGE
Store Propha-Testosterone 100 in a cool, dry place, away from direct sunlight.
DELIVERY TO THE USA
Propha-Testosterone 100 is available for secure and discreet delivery to the USA through authorized suppliers.
LEGAL STATUS
Propha-Testosterone is a prescription-only medication. Adherence to local regulations regarding acquisition and usage is mandatory.
Note: The information provided is for educational purposes and does not replace professional medical advice. Consult with a healthcare professional for personalized guidance on the use of Propha-Testosterone.
DATE OF LAST TEXT CHECKS
/
NAME AND ADDRESS OF THE MANUFACTURER
Beligas Pharmaceuticals
USA
EXTERNAL LINKS
Please log in to write Propha-Testosterone review.