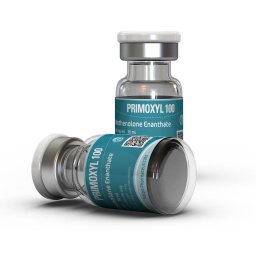 Kalpa Pharmaceuticals
Primoxyl 100
METHENOLONE ENANTHATE 100 MG
Category: Androgen; Anabolic Steroid; Androgen Ester
Package: 10 mL Vial (100 mg/mL)
Brand: Kalpa Pharmaceuticals, India
Purpose: Cutting Cycle
Primoxyl 100 Detailed
KALPA PHARMACEUTICALS PRIMOXYL 100
Primoxyl 100, manufactured by Kalpa Pharmaceuticals, is an injectable anabolic steroid containing Methenolone Enanthate as its active substance. It is renowned for its mild nature and is widely utilized in medical and performance-enhancing contexts.
DRUG COMPOSITION
Each milliliter of Primoxyl 100 contains:
Methenolone Enanthate 100 mg
PHARMACEUTICAL FORM
Primoxyl 100 is formulated as an injectable solution, providing a convenient and efficient means of administration.
PHARMACEUTICAL GROUP AND ATC CODE
Pharmaceutical group: Anabolic steroids; ATC code: A14AEO2.
PHARMACOLOGICAL PROPERTIES
Methenolone Enanthate is a synthetic derivative of dihydrotestosterone with low androgenic and moderate anabolic properties. It enhances protein synthesis and nitrogen retention, promoting a favorable anabolic environment.
PROFILE
Chemical name: (5О±,17ОІ)-1-Methyl-3-oxoandrost-1-en-17-yl heptanoate
Chemical formula: C27H42O3
Percentage of anabolic activity: 88.00%
Percentage of androgenic activity: 44.00%
Active half life: 10 days
Recommended dosage: 400-600 mg per week (men), 100-200 mg per week (women)
Acne: Possible
Bloating (water retention): Minimal
HBR: Low
Hepatic toxicity: Low
Aromatization: No
THERAPEUTICAL INDICATIONS
Primoxyl 100 is indicated for the treatment of conditions associated with muscle wasting, weight loss, and for promoting overall muscle growth.
DOSES AND METHOD OF ADMINISTRATION
The dosage and duration of Primoxyl 100 treatment should be determined by a healthcare professional. It is administered via intramuscular injection.
CYCLE/STACKING
Solo cycle:
Weeks 1-10: Primoxyl 100 (100 mg per week)
Cutting cycle:
Bulking cycle:
Weeks 1-12: Primoxyl 100 (100 mg per week)
Weeks 1-12: Nandroxyl 250 (500 mg per week)
POST CYCLE THERAPY
PCT after a Primoxyl 100 and Trenboxyl Acetate 100 cycle:
SIDE EFFECTS
Common side effects of Primoxyl 100 may include acne, oily skin, and changes in libido. Virilization symptoms may occur in female users.
CONTRAINDICATIONS
Primoxyl 100 is contraindicated in individuals with a known hypersensitivity to Methenolone Enanthate and in those with prostate or breast cancer.
OVERDOSE
In case of overdose, seek immediate medical attention. Symptoms may include nausea, vomiting, and changes in liver function.
WARNINGS AND SPECIAL PRECAUTIONS FOR USE:
Use Primoxyl 100 with caution in patients with liver dysfunction. Regular monitoring of liver function is advised.
INTERACTIONS WITH OTHER DRUGS
Primoxyl 100 may interact with anticoagulants and insulin. Inform healthcare providers of all medications being taken.
PRESENTATION, PACKAGING
100 mg/mL, in 10 mL vials.
STORAGE
Store Primoxyl 100 in a cool, dry place, away from direct sunlight. Keep it out of reach of children.
LEGAL STATUS
Primoxyl 100 is available only with a prescription and is subject to the regulations of each jurisdiction.
LAB TEST RESULTS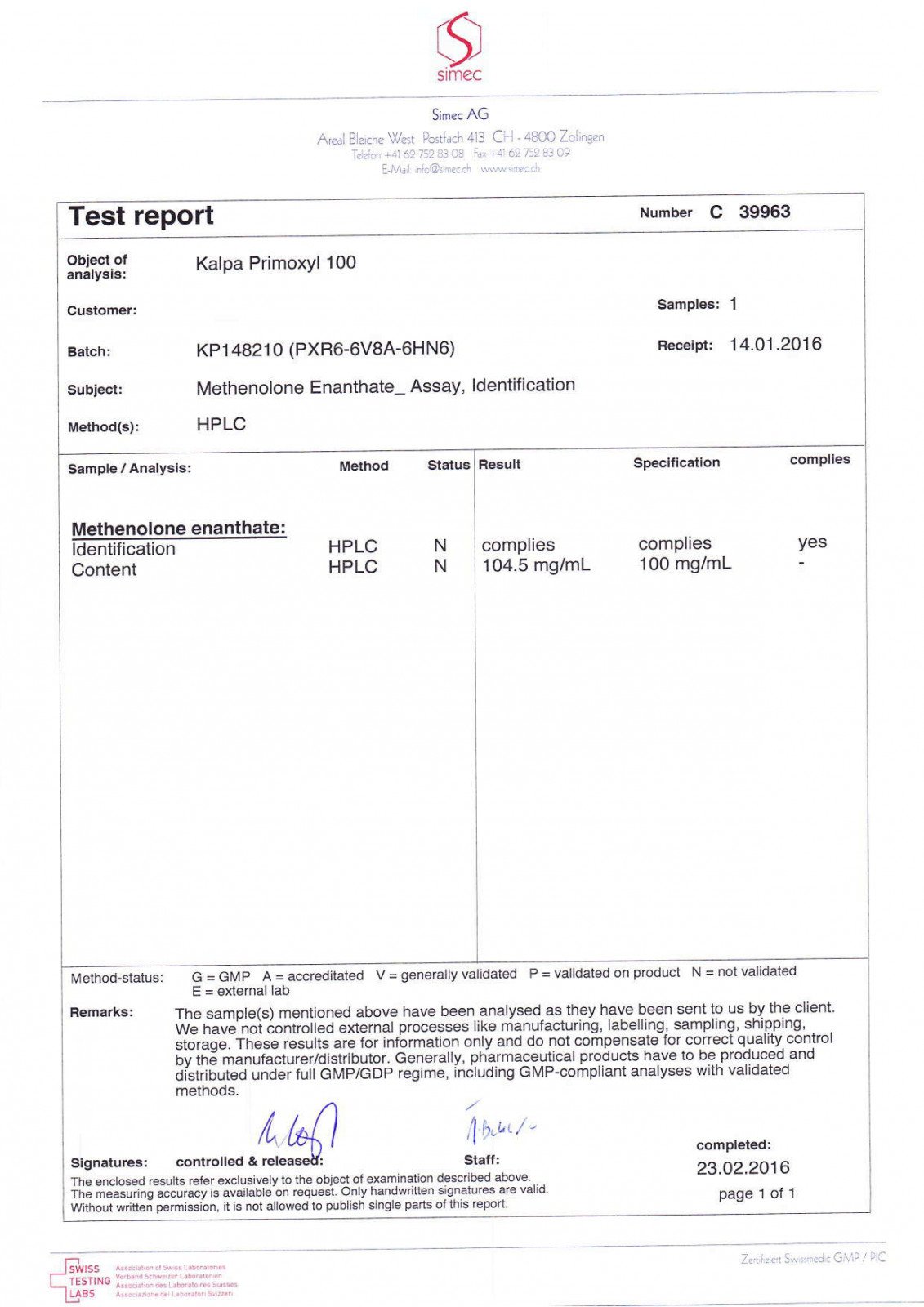 DATE OF LAST TEXT CHECKS
/
NAME AND ADDRESS OF THE MANUFACTURER
Kalpa Pharmaceuticals
India
EXTERNAL LINKS
Please log in to write Primoxyl 100 review.