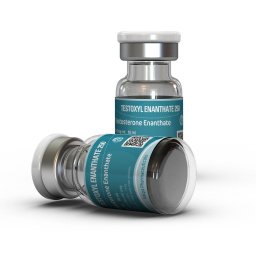 Kalpa Pharmaceuticals
Testoxyl Enanthate 250
TESTOSTERONE ENANTHATE 250 MG
Category: Androgen; Anabolic Steroid; Androgen Ester
Package: 10 mL Vial (250 mg/mL)
Brand: Kalpa Pharmaceuticals, India
Purpose: Mass, Bulking, Strength Cycle
Testoxyl Enanthate 250 Detailed
KALPA PHARMACEUTICALS TESTOXYL ENANTHATE 250
Testoxyl Enanthate 250, produced by Kalpa Pharmaceuticals, is an injectable steroid featuring Testosterone Enanthate as its active substance. This pharmaceutical is designed to release testosterone steadily over an extended period.
Testoxyl Enanthate 250 is being considered as one of the best injectable steroids of the testosterone group for a rapid growth of muscle mass. The drug is produced in India and occupies an honorable place among the anabolics for the growth of muscles and strength results. It is a very high-quality product due to legal release, since the Kalpa Pharmaceuticals produces exceptionally licensed products. Buy Testoxyl Enanthate at a decent price, which today will be the lowest and affordable at Steroid.biz online store.
The active substance of this steroid is a testosterone that has the enanthate ester. If you compare it with other esters, then we can safely say that this steroid is one of the long-acting, and the injections should be done no more than once a week. On each vial there is an ISN or QR code, to test products for authenticity.
Testoxyl Enanthate is designed for athletes, in greater extent, these are bodybuilders and weightlifters. From the main positive effects, you can note:
rapid recovery after injury, for example bundles of ligaments, muscle fibers, as well as joint problems
the ability of an athlete body to fight catabolism that does not give to the muscles
a significant increase in the absorption of food, that is, so necessary proteins and carbohydrates
raising appetite
muscle growths, which is accompanied by some water delay in the body.
DRUG COMPOSITION
Each milliliter of Testoxyl Enanthate 250 contains 250 mg of Testosterone Enanthate.
PHARMACEUTICAL FORM
Testoxyl Enanthate 250 is presented in a liquid form intended for intramuscular injection.
PHARMACEUTICAL GROUP AND ATC CODE
Pharmaceutical group: Androgens; ATC code: G03BA03 - Testosterone.
PHARMACOLOGICAL PROPERTIES
Testosterone Enanthate is a synthetic form of the naturally occurring male sex hormone testosterone. It possesses androgenic and anabolic properties, influencing muscle growth, bone density, and the development of male sexual characteristics.
PROFILE
Chemical name: (17ОІ)-3-Oxoandrost-4-en-17-yl heptanoate
Chemical formula: C26H40O3
Percentage of anabolic activity: 100.00%
Percentage of androgenic activity: 100.00%
Active half life: Approximately 4.5-5 days
Recommended dosage: 250-500 mg/week
Acne: Possible
Bloating (water retention): Possible
HBR: Low
Hepatic toxicity: Low
Aromatization: High
THERAPEUTICAL INDICATIONS
Testoxyl Enanthate 250 is indicated for the treatment of conditions associated with a deficiency or absence of endogenous testosterone, such as hypogonadism.
DOSES AND METHOD OF ADMINISTRATION
Typically, a dosage of 250 mg to 500 mg is administered intramuscularly every 1 to 4 weeks. Dosage should be individualized based on the patient's specific requirements and response.
CYCLE/STACKING
Solo cycle:
A solo cycle may involve a weekly injection of Testoxyl Enanthate 250 for a set duration, tailored to individual goals and needs.
Cutting cycle:
During cutting cycles, Testoxyl Enanthate 250 can be combined with other compounds to preserve lean muscle mass while reducing body fat.
Bulking cycle:
In bulking cycles, Testoxyl Enanthate 250 can serve as a foundational component, promoting muscle growth when combined with appropriate diet and exercise.
Therefore, for building a better muscle mass, to the cycle of Testoxyl Enanthate, you can add such a drug like Arimixyl. It will help reduce the development of estrogen [female hormones] that in turn will not give excessive water to remain in muscle fibers. The preventive dose will be 0.5 mg every other day, starting with the third week of the Testoxyl cycle. And before you buy Testoxyl, take care of the correctly built course of reception.
It is recommended to run a cycle by 8-10 weeks, as this steroid begins to act from the second week of the cycle. What to combine with testosterone enanthate, you ask ??! It already depends on your goals. For extreme mass growth, Testoxyl Enanthate can be combined with such anabolics as Anadroxyl, Trinaxyl, Trenboxyl Enantate. An example will be such an option - testosterone + oxymetholone + trenbolone enanthate.
POST CYCLE THERAPY
Post cycle therapy may involve the use of ancillary medications like Clomixyl or Nolvaxyl to restore natural testosterone production after completing a cycle.
SIDE EFFECTS
Common side effects may include acne, water retention, and increased blood pressure. More serious side effects can occur and should be promptly reported to a healthcare professional.
But like everything in this world, this steroid also has the same consists of reducing the body's own, that is, endogenous testosterone. This moment must be eliminated by the so-called post-cycle therapy. This can be done with the help of Clomixyl, as well as, for example, Cabaser [to reduce the level of prolactin] if there were Nandroxyl or Trenboxyl in your cycle. Clomixyl reception schemes are different, but the base is 100 MG for 15 to 20 days, after which you can reduce up to 50 mg and take it for about 15 days.
CONTRAINDICATIONS
Testoxyl Enanthate 250 is contraindicated in individuals with hypersensitivity to testosterone or its components. It should be used with caution in patients with pre-existing medical conditions.
OVERDOSE
In case of overdose, seek immediate medical attention. Symptoms may include nausea, vomiting, changes in skin color, or prolonged erections.
WARNINGS AND SPECIAL PRECAUTIONS FOR USE:
Patients with a history of cardiovascular disease, renal or hepatic impairment, and prostate issues should use Testoxyl Enanthate 250 with caution.
INTERACTIONS WITH OTHER DRUGS
Testoxyl Enanthate 250 may interact with blood-thinning medications, insulin, and certain corticosteroids. Inform your healthcare provider of all medications you are taking.
PRESENTATION, PACKAGING
250 mg/mL in 10 mL vials.
STORAGE
Store Testoxyl Enanthate 250 at room temperature (20-25°C), protecting it from light.
LEGAL STATUS
Testoxyl Enanthate 250 is a prescription medication, subject to legal regulations.
LAB TEST RESULTS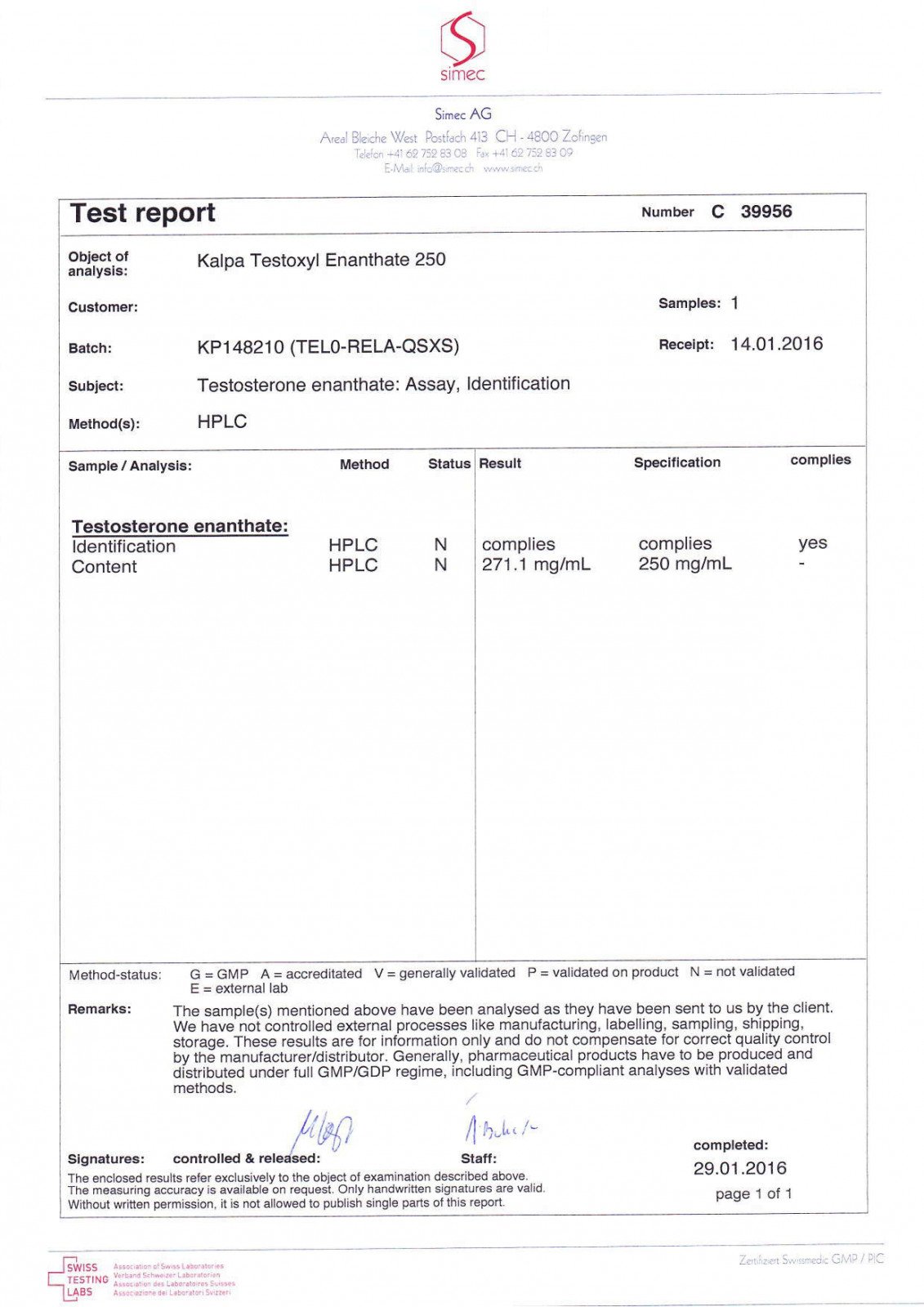 DATE OF LAST TEXT CHECKS
/
NAME AND ADDRESS OF THE MANUFACTURER
Kalpa Pharmaceuticals
India
EXTERNAL LINKS
Please log in to write Testoxyl Enanthate 250 review.